Read about our wild adventures in the world of electronics!
First of all we are sorry that it has taken so long between beta4 and beta5.
A lot has happen since the beta4 release. The 1.5.x releases of Arduino are currently in beta, but to be able to proceed with releases in the future we decided to go with the 1.5.x line.
Lately Arduino has also started looking at updating the compiler (something Xmegaduino desperately needs as the Xmega series is not supported in the avr-gcc version that is shipping with Arduino.)
Beta 5 contains:
New avr-gcc 4.8.1 for all platforms (including support for the USB versions of Xmega and very recent chips)
A new library structure
Some of the libraries have been rewritten to use the SPI library (eg SD library)
Get the new Xmegaduino beta5 here! For linux users, please rename .tar.gz.zip to .tar.gz.
Please give the new beta a test-spin and report any problems in github's issue tracker!
Related products:

Akafugu recently purchased a new Pick and Place machine. We bought it locally here in Japan, from MDC co.,ltd.
It has a big tray holder space, and to save a bit on cost, we decided to try making our own DIY trays for some of the bigger parts we use.
Here is the result and build, we used two sheets of 2.5 mm MDF glued together. The bigger hole at the bottom is for using the reel tape for some very tall components (10mm high). It works great, and we are very satisfied with the result.
Our pick and place machine can take variable sized trays, but we wanted to be able to use both our DIY tray together with regular JEDEC trays.
Here are some resources for JEDEC trays:
A regular JEDEC tray is 322.6 x 136mm, so we made our trays 136mm wide as well.
To make the tray design, we used Sketchup and the Svg output plugin.
We ordered the laser cutted 2.5 mm MDF from our good friend Emerge+.
Start by putting the top panel up side down and insert the 3 mm screws, they will later be used to align the top and the bottom pieces.
We used Loctite Mini as glue, but any glue should do. After applying the glue to the back side of the top layer we put on the bottom and secured the screws. We put some clamps on to hold the panels properly together while the glue cured.
This is the end result with some components placed. The only problem was the lower left diode, it was a bit bigger than the pocket so we couldn't use that space, but other than that is was perfect.
Finally available in our store: Diet Nixie, our new Nixie clock.
Diet Nixie is a fun to build stylish clock kit that uses old-fashioned neon Nixie tubes.
Nixie tubes were once the dominant type of display in early electronics devices such as multimeters, calculators and military equipment. A nixie tube contains a single anode in the form of a wire mesh and usually ten cathodes, generally in the shapes of the numbers 0-9. Nixies with other symbols are also common. By applying around 170-180 volts between a cathode and the anode, the cathode will light up in its characteristic yellow neon glow.
The Diet Nixie clock comes as a kit with all easy to solder PTH components. A stylish semitransparent smoke black acrylic case is included. Fully assembled it makes a stylish and practical desktop clock.
We originally designed and built this clock over a year ago, but we ran into some supply issues for the Nixie tubes, so it's been on the backburner until now.
Related products:

Now available in the store: The IV-18 VFD Modular Clock.
We sold this version of the clock at Maker Faire Tokyo 2013, and ran out of PCBs, so we had to delay launching it on our site until today.
IV-18 is a elongated single-tube 8-digit 7-segment VFD tube, giving the clock a significantly more compact look than the other available display tubes.
At the same time, we're also releasing a custom enclosure for the IV-18 shield that we think gives the clock a very compact and stylish look:
The IV-18 display shield comes in two compact PCBs, and just like the IV-4 and IV-6 shields, it comes with half-cut holes for super-easy mounting of the display tube.
Have a look at the product page for more information.
Click here to buy the IV-18 Clock
Click here to buy the IV-18 Enclosure

We've added the following products from Freetronics to our store:
Arduino Prototyping Shields
These handy prototyping shields are available in two versions:
This prototyping shield comes with Arduino R3 pinout, including a breakout for the ISP/SPI header. It has footprints for a reset button, power LED and a decoupling capacitor.
The board has pinout markings on both sides for extra convenience and clearly marked 5V and GND power rails that run beside the prototype area. There is also as an extra row of pins for access to all Arduino pins.
We sell the ProtoShield Basic R3 bundled with stackable headers and components (LED, resistor, 0.1μF ceramic capacitor and reset button).
This extra short prototyping shield is perfect for use together with an Ethernet shield or other shields that have protruding parts on the left side.
It comes with footprint for a reset button and has clearly marked 5V and GND power rails that run beside the prototype area as well as an extra row of pins for access to all Arduino pins.
We sell the ProtoShield Short bundled with stackable headers and reset button.
Smart charger for 3.7V LiPo cells: just plug in your cell and a USB power source such as a mobile phone charger or computer, and you're done.
Includes a smart LiPo management chip that regulates the charge rate and detects when the cell is charged. Maximum charge rate current limit can be set using solder jumpers to suit your particular LiPo cell.
Thank you to everyone who visited our booth at Maker Faire Tokyo 2013.
Due to a packing error, some of the VFD Modular Clock (IV-4/IV-6/IV-18/IV-22) kits we sold were missing the Piezo buzzer.
If your kit is affected, please send a mail to info @ akafugu.jp with your name and address, plus the type of kit you purchased, and we will send the part immediately.
We are sorry for the inconvenience.
Related products:

Halloween is coming up, and we wanted to create a simple LED contraption to add eyes to Halloween decorations.
Here's the result:
To get it up and running quickly, we started with our XMAS decoration and it's source code. There aren't that many connections, so starting with just a bare ATTiny13A chip and a perfboard is pretty simple too.
The microcontroller is an ATTiny13A, which has two PWM-capable outputs, just the right amount for adding two LED eyes!
The timer that switches between pattern has been set to use the built-in watchdog timer, which fires an interrupt around every 5 seconds.
Here's the schematic:
Source code available at Github.
Parts list:
1x Attiny13A microcontroller, DIP-8
2x LEDs
2x 500 ohm (depending on the kind of LEDs you use and your desired brightness)
Wire and hot glue to mount in a case of your choice
A battery box (2 or 3 AA or AAA batteries, make sure to not use more than 5V)
Here's the PCB with IC socket and resistors mounted and wires attached to the LEDs.
This is the decoration we're modifying. It's a cheap decoration from the local dollar store.
The wires of the battery holder are soldered directly to the PCB:
The breathing pattern is based on the code here.
Suggestions for improvements
The breathing patterns for the LED can be modified to be smoother.
Clever use of sleep mode could reduce power consumption a bit (although most of the power draw is from the LEDs)
The LEDs don't turn off completely when the PWM duty cycle is set to 0. This is simple to fix, but we ran out of code space so we left it for now.
We've just released a new version of the firmware for VFD Modular Clock mk2 with a number of bugfixes and new features.
New features:
Dedicated display mode for Four Letter Word

This display mode will continuously show four letter words, with time shown for five seconds every minute. (Date scrolling and temperature display also works)

Four Letter Words now also move around when a 6 or more digit shield is used.

Progressive alarm setting

New setting to switch between progressive alarm (with snooze) and regular continuous alarm.

Various bugfixes:

EEPROM cleaned on first boot
Exit auto date/temp/time display by pressing button
TEMP setting is now checked before displaying temperature
Get it from Github!
Related products:

Johan from Sweden recently bought no less than three Vetinari Clocks from us, and used them to make this incredibly awesome music video:
The Obon Festival is coming up here in Japan, and many people will have a week of Summer Holiday!
To celebrate the occasion, we are running the following promotions:
20 % OFF VFD Modular Clock and The Akafugu Nixie Clock
Use coupon 2013OBON20 on checkout!
15 % OFF cMoy Headphone Amplifier and Simpleclock
Use coupon 2013OBON15 on checkout!
For other orders, you can use 2013OBON5 for 5 % off any order.
We are also running promotions on our Tindie shop and our Amazon Japan shop.
The Nixie Clock is available with Fulfilment by Amazon, so it is available with next-day delivery for our customers in Japan.
All promotions are available between Saturday August 10th through Sunday August 18th (JST time).
Related products:

We are proud to announce our first DIY audio kit: The cMoy Headphone Amplifier kit.
The cMoy is a headphone amplifier kit based around a single dual-channel opamp, suitable for use with portable audio equipment, smartphones, computers etc.
It is based on a design well-known in the DIY Audio community. We've partnered up with Praktisk Audio, a newly launched audio brand and made it into an open source hardware kit that is easy to assemble for anyone looking for a starting point into the world of DIY audio.
We use high-quality parts sourced in Japan, including Rubycon capacitors and a NJM4556AD opamp. The potentiometer is a 10kΩ ALPS potentiometer with built-in on/off switch.
The cMoy comes as a kit, and includes the PCB board and all the components you need.
No amplifier would be complete without an enclosure, so we are offering a choice of two beautiful aluminum enclosures. Both are Made in Japan by the company Takachi.
The standard enclosure is in aluminum with custom-made black acrylic front panels. The deluxe enclosure comes with beautiful custom-cut aluminum front and back panels with high-quality silk screen.
The only thing you will need to add yourself is a 9V battery, audio cable (mini jack male-male, available in our shop) and headphones.
We are proud to announce that we have started to sell the CUBE4: 4x4x4 RGB LED Cube from Freetronics.
Here is the introduction from their own site:
Freetronics was created in early 2010 by Practical Arduino co-author Jonathan Oxer and technical reviewer Marc Alexander as a result of a deluge of requests for kits, parts, and other odds and ends relating to the book. Since then we've launched a number of products and we're busily creating more, following the Open Source principles of sharing our designs to let other people build on our work just as we've built on the work of others.
We're pleased to announce the immediate release of new revisions of our two most popular products: The Akafugu Nixie Clock and VFD Modular Clock .
As of today, all orders from our The Akafugu Store , Tindie and Amazon Japan will ship the new version. Some of our distributors may still stock the old versions.
We will continue to support the old revisions, and the firmware enhancements mentioned here also apply to the original revisions.
VFD Modular Clock
We have created a new revision of the base board. The display shields are not changed, and both boards are capable of driving the exact same display shields. The enclosures are also not changed. The original VFD Modular Clock used a native avr-gcc firmware, and in order to make changing and enhancing the firmware more accessible for everybody, we wanted to create a new revision of the board to support Arduino.
The two biggest changes are:
The microcontroller has been changed to ATMega32U4, which has built-in USB. It is preloaded with the Arduino Leonardo bootloader, and can be updated just by plugging in a USB mini-b cable to a computer.

The high-voltage generator has been upgraded to use a more advanced MAX1771 converter chip. This allows generation of 40VDC from 5V, so the entire clock is powered directly from a USB port, and can be powered directly from a computer (or using a 5V USB adapter).

Four Letter Word functionality built-in. The new board comes with a pre-programmed EEPROM with our Four Letter Word database. We've also added a censored mode to prevent swear words from appearing.
A new Arduino based firmware has been created for the new board (features are similar to the previous version. GPS and date setting is supported)
Pricing will be the same as the previous version.
We will include a USB mini-b cable with each clock, but the power adapter will not be included.
New features overview:
Atmega 32U4 processor with native USB support
New Arduino-based firmware and Arduino bootloader
Runs directly off 5V: Can be powered either by a power adapter or directly from a computer
Built-in header to attach GPS module (more on this at a later time)
Compatible with the normal VFD Modular Clock shields
The new firmware, which we have called VFDDeluxe is here: VFDDeluxe Firmware
The Akafugu Nixie Clock
The new revision of the Nixie clock features a revised schematic for the control and display board. Notably, the driver has been changed and the neon dots used for second indication have been swapped for orange flat top LEDs.
The new revision was mostly made in order for it to be easier for us to continue buying components and also in order to keep the price the same in the future. The component changes were mostly done to replace certain components that we had trouble keeping stock of.
From a usage perspective, the changes are minor, and the only externally visible change in the design is that we have dropped the INS-1 neon tubes we used as colon separators in favor of two orange LEDs. Apart from that the clock looks exactly the same, and the firmware has the same base functionality (although we have added new functionality that applies to both version 1 and version 2).
Internally, there are bigger changes. The two biggest changes are that we've changed the Nixie driver from the Russian K155ID1 to a more modern HV5812 driver, and switched from optotransistors to normal high voltage transistors for the Anode drivers (The control board is still capable of driving up to 6 tubes).
The Akafugu Modular Clock firmware has been updated to include support for this new hardware revision.
Details of changes:
HV5812 Nixie cathode driver (changed from K155ID1)
MPSA92/MPSA42 transistor pairs to drive the anodes (changed from optotransistors)
5mm Flat Top Orange LEDs for colon separators (changed from INS-1)
2N7000 mosfet driver for LED (changed from 2x MPSA42 for driving the neon dots)
Inductor on power board changed from 470 uH to 100 uH
Changed to use a single 34-pin connector between the control and display board (changed from 2 14-pin connectors)
Not changed:
Power board (except for using 100 uH inductor)
DS3231M real time clock
ATMega328P processor
Hardware compatibility
The control and display board revisions are not compatible. For example, it is not possible to mix a revision 1 control board with a revision 2 display board.
A revision 2 power board can be used as-is with a revision 1 control/display board. A revision 1 power board does not work with a revision 2 control/display board without swapping the 470uH inductor for a 100uH inductor.
Firmware compatibility
The firmware available on github supports all revisions of the Nixie clock as well as the (upcoming) Diet Nixie clock.
To compile for the correct board, look at the top of the file global.h
You'll find the following:
Uncomment the board you want to compile for.
PS: Uploading the wrong firmware will not harm your clock, but it will not work correctly.
A note to owners of the first revision of the Nixie Clock.
We will continue to support this revision, and we will continue to support the original revision in future firmware updates.
Fab Cafe is a cafe in Shibuya, Tokyo where you can rent access to a laser cutter or a 3D printer.
We don't have our own laser cutter yet (the enclosures we sell are produced by Emerge plus), so in order to get a bit more hands on with the actual laser cutting process, we decided to take a trip to Fab Cafe.
They have recently changed their reservation system, so that Thursdays to Sundays are "Open Fab Time" only. This means that you just show up on the day, write your name on a sheet of paper to reserve a slot on the laser cutter or 3D printer. The maximum time you can reserve is 30 minutes, but this is the raw cutting time, and does not include the setup.
When we arrived on Sunday it was pretty crowded, so we had to wait almost two hours for a slot, but we had anticipated that and spent the two hours finalizing the designs to cut. We usually use Sketchup (in conjunction with EagleUP) as well as Inkscape to produce the cutting templates as SVG files. Fab Cafe recommend that Illustrator format be used, which turned out to be a bit clunky: Illustrator didn't like all the SVGs that Inkscape produced. In the end, we managed to work that out though.
Another issue was that since Inkscape and Illustrator use different DPI settings, the Illustrator files ended up too big and had to be scaled to 80 % size to be correct.
After that it was smooth sailing though. The staff was very helpful and showed us through the whole process. The laser had some small issues that day, so some of the cuts had to be run in two passes, but once that was done the results were perfect. (the extra pass did not count into our cutting time).
Here's a picture of the laser cutter in action:
We cut prototypes for lots of different cases, including a case for the IV-22 VFD Modular Clock . We're happy with the design, but we accidentally made the whole case 2mm too low, so it will need one more iteration:
We also cut a case for the Diet nixie (our new nixie clock which we promised to release a while ago). We're still not 100 % satisfied with the legs (they are a bit too loose), so we'll have to do one more version.
Some pictures of the prototype cases are below. The final one is a case for the VFD Modular Clock: Raspberry PI edition board we're working on.
Fab Cafe has an English webpage: http://tokyo.fabcafe.com/en
It is often a bit crowded, but be patient and your visit will be very worthwhile! Since it is a cafe, you can enjoy coffee and cakes while you wait for your time slot. There are tables with power outlets for your laptop as well!
Related products:

We've added an alternative firmware for the LED Candle to the git repository.
The firmware is courtesy of madworm, and features a much slower flickering style than our original firmware. This firmware uses PWM to modulate the LED brightness, and the PWM duty cycle is changed pseudo-randomly to simulate the flickering.
We will continue to ship the LED candle with our original firmware, but we wanted to add this firmware as well since it both demonstrates a different method for simulating flickering but also gives a visibly different flickering style.
The original firmware is found in the firmware subfolder, and the new firmware is in firmware_pwm. An ISP programmer is required to flash the firmware. Also note that the two firmwares use different fuse settings, so to program, first change to the desired directory, then do "make fuse flash".
Sneak preview from the Akafugu labs: VFD Modular Clock: Raspberry PI Edition
Here's a brand new board we're working on: A version of our VFD Modular Clock that plugs in on top of a Raspberry PI as a shield. It is the perfect way to bling up your Raspberry Pi, by adding an attractive retro VFD display on top!
It comes with an on-board co-processor in the form of an Attiny4313 that takes care of driving the display shield, and makes sure that the display can run flawlessly even when the system load of the Raspberry PI is high.
You communicate with it using hardware SPI, and we're writing code for it in Python, making it very easy to talk to!
The most obvious thing to do is of course to show time, but with all the power of the Raspberry Pi at your fingertips, you can display all sorts of other information, such as the system load, uptime, display information from your facebook or twitter or use it as a quick display for other hardware devices you have attached to your RPi.
To make the board friendly to hardware hackers, we've added a 16-bit I2C GPIO expander, giving you easy access to 16 5V IO ports. (In the picture below, you can see the space for the chip in the top left).
Today we release another display shield for our VFD Modular Clock: The much-requested IV-22 shield , that we showed a prototype of over a year ago.
IV-22 are top-view single-digit Russian VFD Tubes. They have excellent brightness and large easy-to-read segments.
We decided to go for a 6-digit shield, which makes it wider than the IV-4/17 and IV-6 shields. We're working on a case too, but it is not quite ready yet. In other words, you are on your own when it comes to the case.
Have a look at the product page for more information.
Our friend Yamada-san from Emerge Plus recently went to Osaka to join an event there. While there, he stopped by the Kyohritsu Silicon House shop in Den-den Town, where Akafugu products are now prominently displayed near the shop entrance.
He took this snapshot:
Albert, from the Surrey Hampshire Hackspace held a Raspberry Pi event this weekend.
He put together this useful handout, incorporating our electronics reference sheet and various other useful resources, including a command line reference for beginners to Linux.
It is no secret that we're fascinated by clocks at Akafugu. We're also big fans of the hugely popular Discworld series by the venerable Sir Terry Pratchett.
Lord Vetinari is one of the many recurring characters in the series. He is a powerful man, and the ruler of the biggest city on Discworld, Ankh-Morpork.
He is in possession of a very strange clock: It ticks irregularly but still keeps accurate time. It hangs in his waiting room, and is designed to be unnerving for the people who are waiting to meet him.
We've turned this concept into an easy to solder electronics kit! Available now in our store, either bundled with a wall clock to modify or standalone so that you can modify your own clock!
The concept and firmware is based on a design by Simon Inns, and everything is released as open source hardware.
About a year ago we published an article about adding a Four Letter Word generator to our VFD Modular Clock .
The result was a Four Letter Word (FLW) generator based on a real-life word association dictionary. It requires an EEPROM to run, so it was a bit cumbersome to set up.
To make it easier for anyone to add Four Letter Word functionality, either to their VFD Modular Clock or to any Arduino project, we've made a small add-on board. It comes with a pre-programmed EEPROM and we've create a simple Arduino library.
Usage with VFD Modular Clock
The latest firmware supports the FLW Addon.
To update the firmware you will require an ISP programmer. See our guide for details.
The Four Letter Word Generator add-on board can be soldered directly to the expansion header of the IV-17 shield or underneath the base board.
Usage with Arduino
Get our Arduino library from github!
Just hook up VCC, GND, SDA and SCL and run the simple example included in the library to see four letter words generated in the serial console.
Depending on the board and whether or not you have other I2C/TWI devices attached at the same time, you may also need to add pull-up resistors to the SDA and SCL lines (around 4.7k)
Here's a sneak preview of our upcoming new Nixie clock: Diet Nixie!
It was pretty difficult to photograph, so rest assured that the display brightness is better than it appears in this picture.
We showed an earlier prototype at the Tokyo Maker Faire in December, and now we've finalized the PCB design and are working the case design.
The name Diet Nixie comes from the fact that the development of the clock started out as a desire to create a more economical version of our original Nixie clock .
To do this, we slimmed it down from 3 PCB boards to just one board, and went with even smaller IN-2 nixie tubes. The new board has only four SMT parts (the backlight LEDs), which cuts down on our assembly time, meaning a lower end price.
Of course, just making a cut-down version of our original Nixie clock would be boring, so we decided to rewamp the circuit design. We've replaced the original КМ155ИД1 (K155ID1) Nixie driver with a more modern HV5812 driver. This driver has 20 outputs and lets us drive the Nixie tubes at 1/2 duty cycle instead of 1/4 duty cycle. The end result of this is a cleaner and brighter display.
Here's a picture with the blue backlight on: (only single-color backlight this time)
We're very happy with the way the backlight enhances the look of the semi-transparent dark blue acrylic case. The electronics inside are visible, without the effect being too "noisy."
For the next revision of the case, we will remove the "akafugu.jp" lettering as it ended up being a bit overpowering… we'll keep the fish though!
We expect the clock to be available for sale on our site by the end of March.
The open source firmware for the open the VFD Modular Clock can be downloaded from github. It has recently undergone a series of improvements with lots of new exciting features (more about that in a later blog post).
Getting an ISP Programmer
To program the VFD Modular Clock , an ISP programmer is required. We do not sell one, so here are a few options:
Arduino ISP Programmer
Most Arduino boards can be used as an ISP programmer by using the ArduinoISP sketch. If you already own an Arduino board, this is probably the easiest way, but it requires some wiring.
AVR ISP mkii
This is Atmels own programmer. It is relatively affordable and can be purchased from Mouser, Digikey or similar shops.
USBTinyISP
This is Adafruit's low-cost programmer. It is quite a bit slower than the AVR ISP mkii, but works just as well as a programmer for the ATMega328P chip on the VFD Modular Clock .
Setting up the Compiler Toolchain
The VFD Modular Clock firmware is written for avr-gcc. The installation procedure differs depending on your OS.
See our installation instructions for details
Getting the Source Code
The latest source code is on github.
Click the ZIP button to download.
Setting up user.mk
The user.mk file is used by the makefile in the VFD Modular Clock firmware to read information about your programmer.
If you've set up an Arduino as an ISP programmer, use this:
If you have a AVR ISP mkii, use this:
If you have an USBTinyISP, use this:
Programming
Everything's ready. Connect the ISP cable of your programmer to the ISP header on the VFD Modular Clock . If your programmer doesn't power the device (which is the case for the AVR ISP mkii), you'll need to connect the 9V power adapter too.
Now open a command prompt and change to the directory where you put the source code:
This will compile the source code and flash it to the microcontroller. Once it is finished, the device will reboot and you will have the latest firmware!
Other uses
The method described here also works for many of our other products, such as XMAS and LED Candle .
The TWI/I2C slave firmware in TWIDisplay , TWILCD and TWIKeyboard can also be updated with an ISP programmer.
Note that The Akafugu Nixie Clock and Simpleclock both ship with an Arduino bootloader and are programmed in the Arduino environment using an FTDI adapter instead of an ISP programmer.
Related products:

We just had another soldering class at Tokyo Hacker Space. This time, we constructed the VFD Modular Clock.
A couple of the participants were completely new to soldering, but this turned out to be no problem at all since they were very fast learners!
The picture below shows the finished clocks: IV-4, IV-6 and IV-18!
Here's a picture of our students:
John of tronixstuff, an excellent resource for Arduino tutorials and reviews, has made a nifty audio spectrum analyzer using our TWILCD board:
We've received reports from some customers that there are issues with display ghosting on some Nixie Clocks.
Display ghosting means that in addition to showing the desired numeral inside a tube, a weak version of the neighboring numeral will also be visible.
If you see this effect on your Nixie clock, you should update the firmware.
If you see no ghosting on your clock, it is not neccesary to update the firmware, but doing so will do absolutely no harm.
Download the firmware:
The Akafugu Nixie Clock version firmware version 1.1 (recommended)
The Akafugu Nixie Clock version firmware version 1.0

The follow our Firmware update guide
So far, the issue has only been discovered on some clocks delivered after mid-December 2012.
The optoisolator (TLP627-1) we use to drive the Nixie anodes (high-side drivers) were bought from two different manufacturers and have slightly different specifications.
The optoisolators from the two different manufacturers look slightly different:

We've never seen the ghosting issue on the left type, with weak print. The ghosting issue shows up on some, but not all clocks delivered with the right type, with strong print.
There is no need to change out the optoisolator as we've adjusted the firmware to be compatible with both types.
PS: If you have bought a Nixie clock with a ghosting issue and do not own an FTDI adapter, or have problems with the update procedure, please contact us by email and we will be happy to help.
Related products:

New firmware updates are available for both our Nixie Clock and Simpleclock
Follow these instructions to upgrade!
First, a rundown of the new features:
The Akafugu Nixie Clock:
Improved display multiplexing routine for better display brightness
Simpleclock:
The new Simpleclock firmware is courtesy of our friend William Phelps. He is also hard at work adding even more features to our VFD Modular Clock (if you are interested in trying out the current code, which is very stable by now, get it from github.)
Note that the procedure for programming the VFD Modular Clock is different, and we'll get back with information on that at a later time.
Step 1 - FTDI Adapter
You'll need an FTDI adapter to program the Akafugu Nixie Clock or Simpleclock. The same adapter can be used for both, so you'll only need one.
There are many versions available, so if you already have one, you can probably use it directly. It should have a 6-pin female header. If you don't already have one, you can get it from our store .
The 6 pins on an FTDI adapter are normally labelled as follows: DTR - RXI - TXO - VCC - CTS/GND - GND
Step 2 - Setting up Drivers
The FTDI adapter requires driver installation on all supported OSs, they can be downloaded from the FTDI webpage.
You will need a USB mini-B cable. Plug the cable into your computer and attach the mini-B connector to the FTDI adapter. You should see the LEDs light up briefly.
The first time you connect the adapter, your computer will assign a serial port.
On OS X, the serial port will typically look like this: /dev/tty.usbserial-A700ft5E
On Linux, the serial port will typically look like this: /dev/tty.usbserial-A700ft5E
On Windows, the serial port will typically look like this: COM5
More information is available here.
Step 3 - Setting up Arduino
If you do not already have Arduino installed on your computer, follow our guide.
If you already have Arduino IDE version 1.0.1 or later installed, you should first download and install our library package:
(The easiest place to install libaries is in the Arduino/libraries folder located in your documents directory.)
Next, it is neccesary to edit the boards.txt file located in hardware\arduino inside your Arduino directory in your favorite text editor. Scroll down to the bottom, and add the following at the very end of the file:
OS X users will need to right-click the Arduino application and select "Show Package Contents." The boards.txt file is in Contents/Resources/Java/hardware/arduino
Step 4 - Getting the firmware
The easiest way to get the firmware is to download it from the github page
Click the button labelled ZIP to get the file, and a filed called akafugu_nixie_clock-master.zip should download to your computer.
When you unzip the file, the firmware will end up in a directory called akafugu_nixie_clock-master. Before opening the file in Arduino, you must rename the directory to akafugu_nixie_clock.
PS: If you want to learn about git and github, have a look at github's own tutorial
Step 5 - Compiling and Uploading
Now open the file akafugu_nixie_clock.ino in Arduino.
In the menu, select Tools -> Board and then select "Akafugu Nixie Clock" Also, in the menu, select Tools -> Serial Port and select the serial port for your FTDI adapter.
Now, make sure that the FTDI adapter is connected to 6-pin connector on the Nixie clock (left side of the control board/diet nixie board). It is neccesary to open up the case of the clock to access the programming header.
Press upload, and the firmware should be uploaded to the microcontroller, after which the clock will reboot.
PS: You can program the clock by only using the FTDI adapter and no 9V power adapter attached. When powered like this from 5V only, the clock will run, but the Nixies will not light up unless you attach the 9V power adapter as well.
Simpleclock
The instructions above are also valid for reprogramming Simpleclock.
The firmware for Simpleclock is at our github page
If you already have Arduino installed, edit the boards.txt file as described above, but use the following text:
Related products:

Now back in stock: The Akafugu Nixie Clock
The Akafugu Nixie Clock is a fun to build stylish clock kit that uses old-fashioned neon Nixie tubes. It comes as a kit complete with three PCBs, all neccesary components, four IN-12 Nixie tubes and smoke black acrylic enclosure.
We also have the IV-4 version of the VFD Modular Clock back in stock!
The VFD Modular Clock is a clock based on old-fashioned VFD Display Tubes.
Tokyo HackerSpace arranges classes about all kind of subjects.
We've had a few classes there in the past, the pictures above are of all the finished clocks from one of the Nixie clock classes we held last year.
We're holding two more classes: One for the Akafugu Nixie Clock and one for the VFD Modular Clock. See below for more information.
The classes will be hold in both English and Japanese, and are open to people of all soldering experience levels. Tokyo HackerSpace is located in Shibuya, for direction check this page.
Nixie Clock class, Saturday January 26th, 2013
In this class we will build the Akafugu Nixie Clock. A clock is included in the registration fee that you can take home with you after the class.
Sign up here.
VFD Modular Clock class, Saturday February 2nd, 2012
In this class we will build VFD Modular Clock. A clock is included in the registration fee that you can take home with you after the class.
Sign up here.
We're temporarily out of stock of "The Akafugu Nixie Clock". If you were looking to get one, there's no need to worry as we will have stock again in about two weeks.
If you're interested, you can sign up for a back in stock notification email. We will not send any other information or spam to you other than the back in stock notification.
We will offer a complimentary FTDI Adapter , that can be used to reprogram the clock to the first 10 people who sign up for the back in stock noficication and subsequently order the clock when it comes back online.
To qualify for this offer, you must do the following
Sign up for the back in stock noficication.
After you receive the back in stock notification, you must order the clock from our store within 30 days.
This offer is only valid for the first 10 people to complete the purchase after receiving the back in stock notification.
Related products:

Here are pictures of the pinouts for the IV-4/IV-17 and IV-6 shields for the VFD Modular Clock. The pinout for the tube sockets as seen from the top and bottom is shown as well as where the segments and grids are connected on the right-hand connector.
Use this diagram to diagnose errors (for instance: if a segment is not lighting up, you can locate where to check for continuity) or as a basis for mods.
Related products:

Our friend John from Australia has created an awesome enclosure for his IV-17 VFD Modular Clock. The case is built around parts taken from an old decomissioned anaesthetic machine on top of a cigar box base in steampunk style.
Have a look at the video of the "Dräger-Punk Sorba-Clock:"
The clock itself runs the latest firmware, which John has helped test extensively. (Available on github)
The four letter word functionality is running using a small EEPROM addon board with the word database on it. You can also see the new date scrolling functionality in the video. Time is updated automatically via GPS.
On the hardware side there are a bunch of mods and enhancements. There is a custom-built RGB light-bar to add mood lightning. Instead of the normal tactile switches on the backside of the clock, the cigar box base houses nice big brass buttons.
Instead of connecting the GPS module directly to the UART, John has connected his GPS module to a low-cost 433MHz transmitter module set up so that it simply transmits all the NMEA sentences from the GPS module. Then there are receivers connected to the VFD Modular Clock as well as other clocks in his collection (that also support GPS).
This way, only one GPS module is required. The 433MHz transmission is noisy and the receivers will pick up a great deal of garbage data. This is filtered out by the error correction in the firmware, so the clock still syncs just fine.
Here is a picture of the backside:
And the inside of the cigar box where all the extra wiring is neatly arranged.
Related products:

Akafugu would like to take this opportunitiy to wish everyone happy holidays and to thank everyone for a wonderful year! We're thankful for the great reception of our new products, and promise to work our hardest to continue to bring you new exciting things in the years to come as well!
We will be taking a few days off for the holidays, and starting today we will be working at reduced capacity.
On the following days, we will be completely closed:
We will be closed the following days:
Monday 24th December Tuesday 1st January ~ Thursday 3rd January
On other days than this, we will work at reduced capacity, and certain items may not ship until December 30th.
Starting January 4th we will go back to our normal schedule.
To compensate for the inconvenience, we are offering 5 % OFF for any item purchased in the store between now and January 3rd. Enter the coupon code HOLIDAYS2012 on checkout to receive the discount.
We've updated the firmware on Simpleclock, our easy-to-solder 4-digit LCD clock kit!
The new firmware includes the following new features:
Date setting
Date automatically scrolls across the screen once every minute
Auto DST (rules are hardcoded, so this feature is turned off by default)
New kits are shipping with the new firmware already installed. To update your own firmware, you will need an FTDI adapter.
The new features can be controlled from the menu:
BRIGHTNESS - Sets the display brightness
24H - Toggles between 24h and 12h mode
YEAR - Sets the year
MNTH - Sets the month
DAY - Sets the day
ADTE - Auto date: Turn on to have date scroll across the screen once a minute
REGN - Sets date format to match your region: YMD, DMY or MDY.
DST - Turns on/off automatic DST
Big thanks to William Phelps who made the Date setting and Auto DST!
William is also working on a huge feature update for VFD Modular Clock that includes all the features added to Simpleclock as well as lots of new stuff:
GPS support! Just add a GPS receiver to the TX/RX pins of your VFD Modular Clock and time and date will be set automatically * Auto dimming: Dims the display at night
Four Letter Word support: The FLW support we added a while back will be integrated and become part of the main firmware.
Improved menu system with submenus
If you're interested in trying out the new firmware, it can be found at Github in the date_and_gps branch
You'll need an ISP programmer to update VFD Modular Clock.
The Four Letter Word functionality will still require an EEPROM. We will offer a small add-on board with a pre-programmed EEPROM for sale. Feel free to mail us if you are interested in early access to the EEPROM board!
Related products:

We recently changed one of the resistors included in our VFD Modular Clock kits from a 2.4kΩ resistor to a 1.6kΩ resistor.
This resistor is used to set the high voltage generated by the clock. With a 2.4kΩ resistor the voltage is about 26V, but with an 1.6kΩ one it increases to around 38V.
This increase in voltage will lead to a slightly higher maximum brightness for the display, which some customers have requested.
If you have a kit with a 2.4kΩ resistor, there is no need to change it unless you specifically need higher brightness. We do not recommend using a resistor value below 1.6kΩ as this will lead to diminished tube life and may cause instability.
Related products:

We just want to say thank you to everyone we met at Maker Faire Tokyo 2012. It was two incredibly intensive days with a lot of interesting meetings and things to see.
TWILCD RGB edition
Pin 1x18
Pin
Function
Comment
1
GND
VSS
2
VCC
VDD
3
V0
Contrast
4
RS
5
RW
6
E
7
DB0
8
DB1
9
DB2
10
DB3
11
DB4
12
DB5
13
DB6
14
DB7
15
LED -
GND to backlight
16
+ RED
17
+ GREEN
18
+ BLUE
We have recently got a couple of questions about using TWILCD 40x2/40x4/RGB edition together with Adafruits 16x2 and 20x4 RGB character displays.
The RGB displays from Adafruit are unfortunately not directly compatible. We constructed the TWILCD board for Newhaven RGB displays which are configured as common cathode RGB light. Adafruit's RGB displays are common anode.
Adafruit RGB displays expect:
pin 15: LED +5V
pin 16: Red GND
pin 17: Green GND
pin 18: Blue GND
It is possible to make it work with a couple of hacks:
Do not connect pin 15 to the board (it is marked with GND on the board.) Instead you need to pull a wire to connect pin 15 on the display to VCC.
In the Arduino library the color value will be inverted, so use this instead:
We have added all pinouts for our two TWILCD versions (standard and 40x2/40x4/RGB) to the TWILCD Resources page.
Related products:

We found this interesting blog from Fork Robotics about subject "Using an Arduino to program ATTiny chips". Similar methods can be used to program the microcontroller in XMAS and LED Candle . (Please note that both these products comes with a preprogrammed microcontroller.)
I've been in this situation many times: I just finished an Arduino project, I'm happy with it and would love to save it, but I only have 2 Arduino boards. Do I sacrifice one to keep this project intact or pull everything off the breadboard and move on? For all the Arduino enthusiasts that can relate to this, thankfully that's not the only 2 choices.
This weekend it's time for Maker Faire Tokyo 2012. It is being held at Miraikan in Odaiba, and we're very excited to be there!
We're in the middle of preparations right now: We will offer all our products for sale at the Maker Faire as well as show off some demos of products in development.
We hope to meet old and new customers alike! Please drop by and say Hi!
We're neighbors with Tokyo Hacker Space (where we've held a few soldering classes), and we will share a small soldering area with them. Customers will be able to assemble kits they buy from us or Tokyo Hacker Space directly (Space will be limited so it will be on a first-come-first-served basis. We may also impose a limit on how long you'll be able to use the soldering station.
Information about pricing and access can be found in this previous blog entry
Part1: Akafugu at Maker Faire Tokyo 2012
Part2: Preparing for Maker Faire
Black Friday and Cyber Monday are just around the corner!
To celebrate we are running a sale starting November 23rd (Black Friday) and running through the weekend until the end of Monday November 26th.
Use the following coupon for 10 % off any purchase: BFCM2012
Here's a little neat trick. Have you ever found yourself with a new serial device that you want to connect to a Arduino, but you want to try it out and talk to it directly first? On Arduino UNO it was pretty easy, just connect the device to pin 0 and 1 (Serial) and hold the reset down, the computer would then talk directly to the device. As the uC would be resetting it would not interupt the communication.
On the new Akafuino L the USB port and the serial port is not connected directly, in fact pin 0 and 1 are connected to a second serial port (Serial1), so it is even easier to do it. We tried google for some code to pass through communication from USB to the second serial port, but found nothing, so we decided to write a small tutorial.
All you need is to connect VCC, GND and cross rx and tx between the device and your Akafuino1 L. Then upload the following program and all characters sent to your device will be passed through to the Akafuino L.
This works on official Arduino Leonardo as well.
Related products:

Arduino just released a new version 1.0.2 of Arduino with a lot of fixes for Arduino Leonardo. We recommend all our customers to upgrade to this version.
More info in the Release Notes.
We have updated our packages with all Akafugu Libraries already included.
Downloads
Arduino IDE with Akafugu Libraries included:
Today we have released the design files for the Nixie Clock enclosure. The case that is included in the kit is in 3mm acrylic.
We include both PDF and Inkscape SVG.
Available from the resource section here.
Related products:

We're running a site-wide Halloween sale starting today!
To get 5 % off any purchase, enter the coupon code TRICKORTREAT on check out.
The code is valid until November 4th.
PJRC, creator of the Teensy line of Arduino compatible boards with native USB support (the forebear to the Arduino Leonardo) recently ran a Kickstarter project. The project was the new Teensy 3.0, with an ARM Cortex-M4 processor (32 bit, 96 Mhz, 128 kByte flash etc etc). It was successful, and a special version of the Arduino-1.0.1 IDE was released to support the board.
Akafugu pledged and received a few boards recently. Naturally, one of the first things we tried was to see if our TWI/I2C boards would work properly. Turns out there was little need for worry, all our TWI/I2C products ( TWIDisplay , TWILCD , TWIKeyboard and RTC Breakout ) are compatible with Teensy 3.0 without any library or source code changes. (our libraries are written using the Wire library, which has been ported to the ARM processor of the Teensy 3.0 by PJRC)
The Teensy 3.0 is a 3.3V board, meaning that SDA and SCL are at this level. Our boards work fine with this, and you can still connect VCC to the 5V port to get better display brighness on TWIDisplay and TWILCD. The RTC board should be run from 3.3V VCC.
Related products:

We are happy to announce that our store is now translated to Japanese.
Tokyo HackerSpace arranges classes about all kind of subjects.
Yesterday we arranged a Nixie Clock class there. It was a success, and everyone managed to finish their Nixie clock without problems. In the pictures above, you can see all the clocks that were made during the class. If you also want to build a nixie clock, please look below for information about our next class. Also check out the Simpleclock class.
Nixie Clock class, Sunday November 4th, 2012
In this class we will build the Akafugu Nixie Clock, a clock is included in the registration fee that you can take home with you after the class.
Sign up here.
Simpleclock class, Saturday October 27th, 2012
In this class we will build Simpleclock, an easy to solder LCD clock kit. A clock is included in the registration fee that you can take home with you after the class.
Sign up here.
Classes will be hold in both English and Japanese. Tokyo HackerSpace is located in Shibuya, for direction check this page.
Akafugu is joining the upcoming Maker Faire Tokyo 2012. We are very excited to meet our customers and supporters at our table.
赤フグはMaker Faire 東京2012に参加します!
Maker Faire is an event created by Make magazine to "celebrate arts, crafts, engineering, science projects and the Do-It-Yourself (DIY) mindset".
http://jp.makezine.com/blog/2012/09/mft2012_site_open.html
Time/Date: 2012-12-01 (Sat) 12:00 - 17:00, 2012-12-02 (Sun) 10:00 - 17:00
Admission:

Pre-order: Adult: 1,000 JPY, Under 18: 500 JPY
At the door: Adult: 1,500 JPY, Under 18: 700 JPY
Pre-order online here: Eplus (only in Japanese)
This year's Tokyo Maker Faire promises to be the biggest one in Japan yet. The venue has been moved to The National Museum of Emerging Science and Innovation (Miraikan) which is located in Odaiba in Tokyo.
Part1: Akafugu at Maker Faire Tokyo 2012
Part2: Preparing for Maker Faire
Simpleclock
[PDF]

Available at resource page for Simpleclock.
VFD Modular Clock
[PDF]

Available at resource page for VFD Modular Clock.
Related products:

We recently received an email from our customer William Phelps, who was having problems with his VFD Modular Clock . He was never able to set time and get the clock to run. After checking around a bit it turns out that a couple of his friends also had the same problem.
Not content to simply ask us to try and figure out the problem, William sat down to debug the problem. The culprit is the extra 1N4001 diode that sits between the output of the 5V regulator and the rest of the components on the board. This was added to provide extra noise reduction and isolation between the 5V power supply and the rest of the clock (both the 5V and the high voltage generator are switch mode, and generate a fair amount of noise).
This extra diode drops 0.8V off the 5V output from the 5V regulator, meaning that the entire board runs off about 4.2V. This causes problems for some DS1307 real time clock chips: They are only rated down to 4.5V, meaning that we were running it out of spec. When you do something like that, there are no guarantees, and it turns out that it caused some clocks to malfunction.
The easiest solution to this problem is to remove the second 1N4001 diode altogether and replace it with a piece of wire.
If you are having trouble with your clock, please perform the following repairs:
Cut off or desolder the right-side 1N4001 diode:
Run a small piece of wire between the two points where the diode was. You can also use a discarded piece of a leg from a resistor or a diode and solder that in place instead.
This should make the clock run properly.
PS: Even if your clock runs properly, performing this repair is still recommended.
Big thanks to William Phelps for not only pointing out the problems to us but also for spending a lot of time and effort on his side to debug and troubleshoot to help us come up with the simplest possible fix.
William is currenty hard at work adding extra features to the VFD Modular Clock Firmware. Some of his enhancements are already available for download on github, and there are even more exciting new features on the way!
PS: The Assembly instructions for the VFD Modular Clock have been updated to skip the 1N4001 diode too. New kits will ship with only one diode.
Related products:

We have added the schematic for our Akafuino X microcontroller board.
Available in the store
Related products:

日本語はここです。
Tokyo HackerSpace arranges classes about all kind of subjects. They have a new fantastic space and we are very excited to collaborate with them. During October Akafugu will hold two soldering classes:
Nixie Clock class, Sunday October 7th, 2012
In this class we will build the Akafugu Nixie Clock, a clock is included in the registration fee that you can take home with you after the class.
Sign up here.
Simpleclock class, Saturday October 27th, 2012
In this class we will build Simpleclock, an easy to solder LCD clock kit. A clock is included in the registration fee that you can take home with you after the class.
Sign up here.
Classes will be hold in both English and Japanese. Tokyo HackerSpace is located in Shibuya, for direction check this page.
As part of our ongoing goal to make it as easy as possible for our customers to use our products, we've now started including QR codes on our invoice. The QR code links back to the product page, where we have info and assembly instructions.
For those who don't know, QR-code are widely used in Japan and are getting more and more momentum around the world. It is basically a 2d barcode that can encode text, contact information and links among other things.
We used the very handy Google Developer tool to get the image onto our invoices.
This code:
Results in the following picture:

We have now added the schematics to our nixie clock here.
And the firmware is now uploaded to Github.
Available in our store: The Akafugu Nixie Clock!
Related products:

Now available in our store: The Akafugu Nixie Clock!
The Akafugu Nixie Clock is a fun to build stylish clock kit that uses old-fashioned neon Nixie tubes. It comes as a kit complete with three PCBs, all neccesary components, four IN-12 Nixie tubes and smoke black acrylic enclosure.
| | |
| --- | --- |
| Comes with adjustable RGB backlighting! | |
| With beautifully styled PCB decorations on front and back plates | |
| Front and back plates are part of the enclosure for a unique "modern meets retro" look. The side plates are laser cut acrylic in semi-transparent smoke black, allowing you to get a glimpse of the clocks inner workings. | |
| Unique and simple control scheme: Everything is set using a single rotary encoder with button (and alarm on/off switch on right side). Turn the rotary encoder to set RGB backlighting mode. Hold the button down to cycle between setting alarm, time and custom settings. | |
| Comes in a kit of three separate PCBs: Easy to solder Trough-the-hole (PTH) parts only. The small SMT parts come pre-assembled. | |
| Russian top-view IN-12 Nixie tubes. | |
| Powered from a single 9V (or 12V) AC adapter. The 180V high voltage required to run the nixie tubes is generated from the 9V DC supply. | |
| Uses an Atmega328P microcontroller with Arduino bootloader and firmware preloaded. The firmware is written in Arduino, and is fully open source. Anyone can reprogram their Nixie clock using a simple FTDI Adapter and a USB mini-b cable. (Cable not included. FTDI adapter is available as an extra option in the shop. Other brands of FTDI adapter are also usable) | |
Related products:

Arduino prototyping in style: Introducing the Project Box for Arduino, a a tailor-made box enclosure for Arduino boards!
The enclosure is fully compatible with the new R3 Arduino layout (as used in the new R3 UNO boards, Arduino Leonardo, and our own Akafuino L board. This layout has extra connectors pins as well as a new placement for the reset button). The enclosure also supports all other pre-R3 original Arduino boards.
The enclosure uses slim 2mm thick acrylic giving it a compact and slender appearance (in contrast to the more common 3mm thickness). Careful attention was paid during the engineering process to make the case fit neatly together by utilizing four nylon screws and nuts.
The case is available in four different color schemes: There is transparent with colored edge cuts and semi-transparent smoke gray. The colored edge acrylic is transparent, but all the cut edges have a color cast to them, they are available in blue-, green-, ultraviolet-, and pink edge colors.
The removable top plate of the enclosure features another engineering innovation: Carefully cut slots allow you to remove the top plate by gently squeezing the side of the plate and tilting it up. A miniature breadboard (not included) can be fastened on top of the top plate to allow easy and compact prototyping without a shield.
Project Box for Arduino is designed and manufactured by Emerge+, a small company located in Chiba City, Japan. (located in Chiba prefecture, just east of Tokyo). Emerge+ specializes in laser cutting, and we are proud to offer their products for the first time internationally!
This has absolutely nothing to do with electronics, sorry! :)
Living in Japan is special, summertime is filled with festivals, people wearing Yukatas (a casual summer kimono) and of course limited edition products.
One of the most common points of experimentation for limited edition products is soft drinks. Pepsi always have a limited edition of a soda at summer time each year (the most famous of which include such classics as Ice Cucumber (2007) and Salty Watermelon Pepsi (2012). Needless to say, Ice cucumber didn't actually contain any cucumbers, only essence)
This year Suntory had a brilliant idea, people like soda and they like coffee. Let's fuse them together! And the result is Suntory Espressoda "A twist of bold coffee and refreshing soda".
The result? Although it is not disgusting, it is not really great either. It tastes, not surprisingly like combining a bland ice coffee with a no-name soda.
We give it two sparkling coffee cups out of five.
More info can be found on Suntory's homepage (in Japanese only)
We are busy getting these ready… Power boards for our upcoming Nixie clock. These generate 180VDC, so be careful :)
The perfect companion for your VFD Modular Clock: A custom made case in cool smoke gray semi transparent acrylic.
A simple acrylic stand made especially for the TWIDisplay in stylish semi-transparent black acrylic.
It has four mounting holes for the TWIDisplay PCB as well as two holes on the bottom that can be used for mounting or to attach legs to.
Four screws are included to mount the display, as well as two stand-offs that can be mounted on one side to prop the display up on any flat surface.
John Loadsman (grumpygasbag) writes:
Hi there,
Thought you might be interested to see this.
Bit the bullet this morning and soldered a pin header to the TWI expansion pads on the IV-17 shield of the Modular Clock. I'd already experimented with the Arduino implementation of the FLW with success.
Stuck an eeprom (24LC512) flashed with the Four Letter Word dictionary in breadboard, wired it to the clock after flashing the clock with the FLW-work-2 firmware.
Instant success! ...
It even just displayed "John"!
It also just displayed an impressive series of expletives. :-)
I LIKE it!
Related products:

The IV-17 tubes we ship with our VFD Modular Clock are getting increasingly rare and expensive.
In order to allow us to continue supplying clocks regularily, we've started adding IV-4 tubes to our stock. IV-4 tubes are fully pin compatible with IV-17 tubes and look identical except for the marking on the back.
From now on, we will start shipping the VFD Modular Clock with either IV-17 or IV-4 tubes depending on what we have in stock.
Related products:

There is a wide range of OLED character displays available using the HD44780 controller. We had one from Newhaven that worked just fine with our TWILCD TWI/I2C LCD backpack, but we were recently made aware of the fact that most of Newhaven's other OLED displays wouldn't work with TWILCD (nor with the standard version of the Arduino LiquidCrystal library for that matter).
Turns out we needed to make some changes to our TWILiquidCrystal display to make things run smoothly with most OLED displays. So we are happy to announce that our TWI/I2C LCD backpack TWILCD is now fully functioning with various OLED Character Displays.
We've updated our TWILiquidCrystal Arduino Library, and it now fully supports a wide range of OLED Character Displays. If you have a problem connecting an OLED to your TWILCD, please make sure to download the latest version from here.
These displays have been tested:
NHD-0216SZW-BY5
NHD-0420DZW-AG5
NHD-0216KZW-AB5
A noname (OEM) OLED with 2x7 pin header, compatible with HD44780 layout.
Here is a size comparison (the NHD-0216SZW-BY5 is HUGE!)
A special thanks goes to TOMEGA3 for debugging help on this issue.
Related products:

One of our customers told us about this small marvellous library: MENWIZ is an easy to use Character LCD Menu Generator written for Arduino. It was written to be used together with the New LiquidCrystal library, but with some small changes it can also be used together with our own TWI/I2C LCD backpack TWILCD . The picture above shows the TWILCD running a Newhaven OLED display.
We copied the MENWIZ library and the button library (included in the REQUIRED_LIBRARIES.zip in MENWIZ) to Arduino's library folder. Below is a diff of the things we had to change in the library to get the quick_tour example running.
The MENWIZ runs equally well on 2x16 as it does on 4x20 displays. It should also work with our TWILCD 4x40 version board and display.
We are looking forward to hear what our customers are doing with MENWIZ and TWILCD.
Related products:

As we told you in an earlier blog post we are currently trying to make a Pick & Place machine out of a Shapeoko CNC mill.
To make a P&P machine usable, there is one very important thing: It needs to have a home to go to. A home on a P&P machine or any computer controlled machine is a known position to start from. In a CNC machine this is usually a corner where all axes are at their minimum or at their maximum, and on our machine this is at the front left corner with the head in its highest position. To the machine this is known as 0,0,0. All X and Y movement are running on the positive side of these axes and the Z axis is moving on the negative side.
The shapeoko doesn't come with limit switches (the base model is only around $300), so we decided to make some ourself. Milling is a quite new thing for the Open Source Hardware community, 3d printers have come a lot further. Over at the Makerbot site they publish all their hardware designs. They have a mechanical endstop that would work well for our Shapeoko. The only problem was the form factor of their board as it is specially tailored for the Makerbot hardware.
On the Shapeoko the perfect place would be to mount the three (3) switches on the endplate and motor plates. This way we can use the other motor plate to activate the switch. For the Z-axis the actual switch is extended out from the PCB with a piece of wire and mounted to the backside of a Makerslide
Here are some pictures on how it can be mounted. Important is also to filter the signal so we don't get false positives, this is done with a low pass filter consisting of a resistor and a capacitor.
All files are available on our Github site.
We haven't put this design in our shop, but if you are interested in buying a 3-pack of these with all the SMD parts already pre-mounted, please don't hesitate to send us an email.
Part1: Making a Pick & place machine, part 1
Part2: Making a Pick & place machine, part 2
Tokyo HackerSpace recently moved to a new location, and yesterday we attended their moving in party!
The new location is in the middle of Shibuya, one of the busiest shopping and leisure areas of the city, known especially as a meeting place for young people (along with the neighboring Harajuku). The new space is located just a few minutes walk from Shibuya station, right across from the Apple Store.
The attendance was tremendous, probably more people than we've ever seen at any of the weekly open house meetings! The new location is smaller than the old one, but in the short time they've been there they've managed to style it to feel just like Tokyo HackerSpace should: A friendly place full of hacker gadgets where likeminded people meet.
While there, we took the liberty of showing off our latest clock creation: The Akafugu Nixie Clock.
It is a clock kit that uses retro Nixie tubes. The particular type shown on this picture are IN-12 tubes. The PCBs are currently in production and we plan to start offering the kit (complete with all components and the acrylic enclosure) on our shop as soon as we have all the parts ready (within one to two months). The firmware will be Arduino-based and can be flashed from any computer with the Arduino IDE installed using an FTDI adapter.
We will hold a couple of soldering workshops at the Tokyo HackerSpace. The first will be for Simpleclock , our 4-digit LCD clock kit, perfect for beginners to soldering. After that, we will hold a workshop for the Nixie clock.
We will announce timing for the workshop later on here!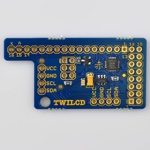 The TWILCD is an easy to use 16x2 LCD display that is controlled using the TWI (I2C compatible) protocol.
It is super-easy to control with any microcontroller that supports the TWI protocol. Libraries for Arduino and avr-gcc are available on GitHub.
The library is compatible with the Arduino LiquidCrystal library, so any sketch you have that uses a standard 16x2 LCD display (with 10 wires connected) can be converted to use the TWILCD with only 4 wires with only one single line of code change.
Only four wires are required for operation, one for power (runs on both 3.3V and 5V), one for ground, and two for the TWI protocol.
The Akafuino X is a microcontroller board based on the Atmel XMega32A4 microcontroller.
The Akafuino X can run Arduino sketches. It uses a special version of the Arduino IDE that adds support for the XMega line of processors. See the XMegaduino project for more details.
The TWIDisplay 8-digit LCD is an easy to use 8-digit 14-segment transflective LCD display. It can display the full alphabet in upper and lower case.
It is controlled using only four wires: Two for power and ground (it can run from either 5V or 3.3V) and two fro the TWI (I2C compatible) protocol. The firmware is fully open source and available on GitHub.
The TWIDisplay library has been updated to support both this new display and the original TWIDisplay 4-digit LCD display.
Available in our shop now!
See here for more information: TWIDisplay: 8-digit LCD .
Here is a follow up to our previous post.
We've added a reference drawing of the IV-6 shield, as well as measurements for the buttons and connectors on the back side (as requested!).
IV-6 Shield

Base board, connectors and buttons

Part1: New Reference Files for VFD Modular Clock
Part2: New Reference Files for VFD Modular Clock, part 2
Related products:

The VFD Modular Clock remains one of our best-selling items.
In order to make it easier for people to design their own cases, we've made some reference drawings with measurements.
IV-17 Shield

Base board and shield, side view

Part1: New Reference Files for VFD Modular Clock
Part2: New Reference Files for VFD Modular Clock, part 2
Related products:

Summer is here, and Akafugu will go on vacation!
Orders placed between July 20th and July 30th will not be processed until July 31st.
We are very sorry for the inconvenience and would like to offer our customers the option to use one of the following coupons, all valid until July 30th.
SUMMERBREAK - 5 % off any order
SUMMERSAVINGS - 10 % off any order of USD 100 or more
When doing assembly of surface mount parts, a big part of the time is spent placing components. To help automating the process, it is possible to use a pick and place machine. However, a pick and place machine is a large investment for small companies such as us here at Akafugu (starting at tens of thousands of dollars).
We've always been interested in stepper motors and mechanics, so when we first heard word of the Shapeoko we got very excited. It is a stepper motor driven milling machine that includes all the neccesary electronics for around $600. We started thinking about how we might go about transforming it into a pick and place machine. There is already some interest in this on the Shapeoko forum, and we found a nice open source software project called Openpnp that can be used for control by sending G-code to the controller.
To transform the Shapeoko into a P&P, you'll need the following:
A vacuum pump
A solenoid activated valve (to control the vacuum on/off)
A pick&place head
A stepper motor (or similar) for the P&P head for rotation
A top-down facing camera for checking components and to use for alignment
An upward facing camera for looking at picked up components to aid rotation
Limiting switches (endpoints) so you have a known starting state for your machine
The vacuum pump and solenoid can be bought cheaply on ebay. In fact, the pump we bought was a modified aquarium pump (modified to suck air). This pump is quite difficult to use as a manual tool since the head is not angled and the vacuum is controlled by a simple hole in the pipe. It is however good enough for our P&P.
The stepper motors for the Shapeoko run on 24V, so we opted for a 24V solenoid as well. In hindsight, we might as well have gone with a 5V one since the one we ended up with is quite big and has a lot more power than we need.
The solenoid is connected to D12 on the Arduino board and controlled by G-code M3/M5 (spindle on/off)
For a test, we decided to pick and place 0402 size resistors. These are tiny, only 1.0 x 0.5 mm! (See the top picture in this post for a reference: The top line of the ruler is inches and the bottom line centimeters. The three small resitors are 0402's while the bigger one is a 1206, 3.2 x 1.6 mm).
The test was successful: We were able to pick up and move 0402 resistors reliably. Of course this doesn't prove that the finished machine will be able to place 0402 components at 100 % reliability, but it should at least mean that bigger components such as 0603, 0805 and 1206 ought to work well.
Here is the video:
To be continued!
Part1: Making a Pick & place machine, part 1
Part2: Making a Pick & place machine, part 2
Our microcontroller reference sheets have been popular and we've received lots of great feedback.
We've added a new sheet that covers most of the chips that were missing in the Atmel ATmega and ATTiny families, specifically the ones that come in only SMD packages. The chips included are ATtiny 4/5/9/10/20/40/24a/44/84a/43u/87 and 167. We've also added the ATmega8/48/88/268/328 in TQFP package which has a different pinout than the DIP package covered in the original reference sheet.
As we used the reference sheets ourselves, we realized that there was one thing we always had to go back to the datasheets to double-check: Namely which PWM is connected to which counter (this information is required to set up timers and PWM when programming in low-level avr-gcc). We've added the timer information after the * sign that indicates a PWM pin.
Let us know what you think… is this information you've been missing, or is does it make the sheet too crowded? Depending on your feedback we'll decide whether or not to add this info to the other reference sheets.
Go here to download.
Please welcome the newest member of the Akafuino microprocessor board family: Akafuino L!
The Akafuino L is an Arduino clone based on the new Arduino Leonardo. It comes with the new Arduino R3 pin layout (with dedicated pins for I2C/TWI).
It is powered by an Atmel Atmega32U4 microcontroller and can run Arduino sketches. All you need is version 1.0.1 of the Arduino IDE, and you will be up and running in no time!
We also added an MMA8453Q 10-bit I2C Accelerometer and created a full Arduino library for it. The MMA8453Q is cool little accelerometer with lots of built-in features such as landscape/portrait detection and knock detection. Our Arduino library uses the Wire library, so it will work seamlessly along with other I2C/TWI devices.
To assist people who want to program the board using low-level gcc instead of the Arduino IDE we've also added a port mapping legend on the back of the board (so that you can easily see which ports the different Arduino pins map to).
There is also an extra TWI/I2C header that has the same pin order as all our TWI devices such as TWIDisplay and TWILCD . We also put in an SPI header for easy access to the hardware SPI pins (they are not broken out on the normal Arduino pins as with the Arduino UNO). These extra pins can also be used as normal digital I/O pins.
TOP VIEW:
BOTTOM VIEW:
Related products:

Tronixstuff is a blog full of valuable information for Arduino developers. It contains a wealth of information about Arduino including tutorials and example projects.
John at Tronixstuff has been kind to review some of our products, and here is what he had to say:
First out this round was Simpleclock, our easy to assemble Arduino-based LCD clock:
Conclusion
The Simpleclock was easy to assemble and works very well. It would make a fun kit for those learning to solder, as they have something that once completed is a reminder of their success and useful in daily life. Apart from using USB for power instead of a DC socket it's a great kit and I would recommend it to anyone interested in clocks, enjoys kit assembly, or as a gift to a young one to introduce them to electronics and microcontrollers.
Next, he also reviewed both variants of TWILCD, our character display backpacks that support any HD44780-based LCD display.
Conclusion
The TWILCD backpacks are simple, easy to setup and easy to use. They make using LCD displays a lot easier and faster for rapid prototyping, experimenting or making final products easier to use and program. A well-deserved addition to every experimenter's toolkit. For more information, visit the akafugu product website. Full-size images available on flickr.
Related products:

The difference between Arduino UNO and Leonardo
The biggest difference between Arduino UNO and the new Arduino Leonardo is in how USB communication is handled.
Arduino UNO and earlier devices have all used a discrete USB controller (an FTDI chip, or in the case of the UNO a dedicated ATMega8U2 chip programmed to act as a USB to serial converter). This means that the UART on the main processor is used for communication with the computer.
The new Arduino Leonardo uses an Atmel Atmega32U4 chip that comes with a USB core on-chip, and thus this and not the UART is used to communicate with the computer.
The practical result of this is that (when using the Leonardo) communicating with the computer (for example for debugging) does not use up your UART. The Serial object is used for communicating with the computer, and the hardware UART on the processor is bound to the Serial1 object (the hardware uart is connected to pins 0 and 1, as it is on the Arduino UNO).
In conclusion: The Arduino Leonardo has two serial ports, one connected to the USB port and one connected to pins 0 and 1.
Installing drivers for USB
For Linux and Mac, the device just works, for Windows you will need an INF file. (Included in version 1.0.1 of the Arduino IDE).
The USB protocol has 2 ways of recognizing a device: the VID/PID and the Class.
The Class tells the OS what kind of device it is, eg HID (for Mouse and Keyboard) or CDC (USB communications device class for serial ports) etc.
When you plug in a USB device on OS X and Linux, the USB class will be checked first. The Leonardo bootloader will identify itself as a serial port, and this is enough for OS X / Linux: A generic serial port driver will be loaded, and used to upload sketches.
Windows works a bit differently: It first looks at the VID/PID (Vendor ID/Product ID) of the device. The VID and PID are unique identifiers that are used to match the correct driver to the device.
Thus, to make Leonardo work on Windows you need to give it a INF file that tells Windows that this VID/PID combination is a serial port and should use the common USB virtual serial driver.
What about clones?
A Leonardo clone must supply its own unique VID/PID combination. This causes no problems on OS X and Linux since the Class will be the same as a genuine Leonardo, and the correct generic serial port driver will be loaded.
This won't work on Windows, since Windows looks at the VID/PID combination first (as explained in the previous section).
To complicate things, the Leonardo and any clone needs two VID/PID combinations: One is for the bootloader (which is a pure serial port) and one is for the actual Leonardo device, the one that runs your sketch after exiting the bootloader (which is a combined serial port and HID device).
The practical upshot of this is:
On OS X and Linux, a Leonardo clone will work out of the box, and can be identified as "Arduino Leonardo" in the Boards menu in the Arduino IDE. It is of course better practice to add an entry specifically for the clone device in boards.txt.
On Windows, a unique INF file for the clone device must be installed. Also, it will not work without editing the boards.txt file to add a unique section for the clone device.
Related products:

The DS3231M breakout board is a compact breakout board for the new DS3231M high precision real time clock chip. With it, you can add timekeeping and alarm functionality to any Arduino (or other microcontroller that supports the I2C/TWI protocol).
The board comes with an onboard CR1220 backup battery (keeps time when main power is disconnected). All pins on the chip are broken out, allowing you to use extra features such as 1Hz and 32kHz square wave output, interrupt on alarm and reset.
The board is super-compact: It is only a bit bigger than the battery holder.
Features:
Breakout board for the DS3231M high precision real time clock
Controlled using the I2C/TWI protocol
All pins broken out for easy access to 1Hz and 32kHz square waves, alarm interrupt and reset.
Pull-up resistors for SDA/SCL as well as for the 32KHz oscillator and square wave ouptut/alarm interrupt output
Have a look at the product page for more information.
Simpleclock is an easy to assemble attractive 4-digit 7-segment LED display clock with temperature and alarm function. It is available in three display colors: Red, Blue and White.
It comes as a kit of through-the-hole parts and can be soldered by any person with basic soldering experience. An attractive acrylic stand is included.
The firmware is open source, and is written in the Arduino IDE allowing anyone to modify and program the clock easily (for programming, an FTDI adapter is required. If you don't have one, you can buy it from our shop along with simpleclock.)
It is perfect for beginners to soldering, as well as as a starting point for tinkering with the Arduino IDE: Just download the code from our GitHub repository, connect an FTDI cable and you are ready to begin hacking.
The clock comes with a simple to use firmware already flashed to the included ATMega328P microcontroller (comes with Arduino bootloader installed), so it can of course also be used as a standalone clock. Just plug in a USB mini-b connector to your computer or to a 5V regulated USB power supply.
Features:
Clock and alarm
Thermometer
Simple to use menu system (same interface as the VFD Modular Clock )
Open source firmware written in Arduino
Arduino bootloader and serial pin header for easy re-programming using an FTDI adapter
Comes with detachable TWIDisplay: Use either with the clock backpack or connect another Arduino or microcontroller with TWI/I2C support to re-use the display for your own project.
Head over to the product page for more information.
We have just released two new products in our store: The long-awaited IV-6 shield for the VFD Modular Clock and LED Candle, an artificial tea candle.
A couple of months back, we posted a sneak preview of a few new shields for our VFD Modular Clock that we were working on. We've been silent since then, but that ends today. You can now buy the VFD Modular Clock with IV-6 tubes in our store. IV-6 tubes are compact 7-segment display tubes, the shield comes with 6 of them, showing hours, minutes and seconds.
The clock's firmware will automatically detect this shield and adjust for it. The firmware on all shipped VFD Clocks support the shield already (although we do have a new firmware version that we will supply on future clocks that has a few extra functions).
You can buy the VFD Modular Clock with IV-6 shield or the IV-17 shield today. If you already have the IV-17 shield and would like to add another shield, contact us by email as this option is not yet available in the shop.
LED Candle is an artificial tea candle that comes in an easy to solder kit. It is suitable for beginners to soldering: There are only a few parts and clear easy to follow instructions on our website. It runs on a single CR2032 3V lithium battery.
We got the idea for the LED Candle on instructables, and decided to make the design fully open source. Both firmware and PCB CAD files are available on github.
Related products:

With the new TWILCD 4x40-RGB backpack it is easy to control a 4x40 display. Here is a short video to show big numbers displayed using custom characters.
More info about this product is available here. It is available now in our store.
The code was inspired by this blog post.
Related products:

We've just added a .net Micro library (written in C#) for our TWIDisplay to GitHub.
It comes in two files: TWIDisplay.cs, a class that implements all the functionality of the Arduino library in a C# class, as well as a test program that runs through all the modes of the display.
It has been tested with both Netduino and FEZ Panda v1.2 boards. It is confirmed working on both. On Netduino, pull-ups are required on SDA and SCL, whereas on FEZ Panda the internal pullups are sufficient (these are automatically enabled by the library).
In order to support more and newer processors in Xmegaduino (especially the new Xmega with integrated USB), we needed to update the avr-gcc package version from 4.3.3.
To do this, we compiled avr-gcc 4.5.1 together with Avr-libc 1.7.1 for Windows, Mac OS X and both 32 and 64-bit Linux. This is the same toolchain that is used in Atmel Studio 5.0, 5.1 and 6.0.
While testing this new toolchain compiling one of our own projects, we got this error:
The manual for delay in avr-libc gave us some interesting info:
Turning on the define __DELAY_BACKWARD_COMPATIBLE__ worked and it compiled as promised. But we use "-ffreestanding" for some of our code (such as the firmware for TWIDisplay) and the above states that in that case we shouldn't need to define __DELAY_BACKWARD_COMPATIBLE__? Some googling on the issue didn't result in much. Almost everyone with this error message were using _delay_ms() function with a variable and that is no longer allowed in avr-libc 1.7.1. Only a few had like us only _delay_ms() with a constant but no-one seemed to be able to help.
After some debugging and head scratching it became clear that without -ffreestanding the code compiled but why was the statement in the documentation not correct? After 1.7.1 was released there is also a 1.8.0 released. In 1.8.0 it does also check if –ffreestanding is defined and defaults to the same behaviour as __DELAY_BACKWARD_COMPATIBLE__, this was missing in 1.7.1, and thus you need to specify __DELAY_BACKWARD_COMPATIBLE__ if you want to use -ffreestanding. The documentation is written for 1.8.0, not for 1.7.1.
In other words __DELAY_BACKWARD_COMPATIBLE__ is required for 1.7.1, but not in 1.8.0.
Related products:

We had originally plannet to hold off the beta 4 release of Xmegaduino until after Arduino had released the official 1.0.1. However, this week they decided to release another release candidate and wait with the golden release until end of the month.
In Xmegaduino we have some really exciting new things we wanted to put in the hands of our users, so we decided to release beta4 now instead of waiting.
Here are some of the new things in beta 4:
New avr-gcc 4.5.1, avr-libc 1.7.1 for all platforms (Windows, Mac OS X, Linux 32/64)
Linux now comes with bundled avr-gcc and avr-libc
Use correct SPI port on Akafuino X (pin 10-13)
Upload sketch to XPlain using PDI
And these things are fixed by the arduino team for 1.0.1-rc2:
Translated to 20 different languages, incl Japanese
Only recompile changed files (which means faster uploads)
The new avr-gcc is especially interesting as it enables for support of even more Xmega processors including the new Xmega series that has built in USB support. This version of avr-gcc is also the same version as used by Atmel in Atmel Studio 5.0, 5.1 and 6.0.
Get the new Xmegaduino beta4 here!
Please give the new beta a test-spin and report any problems in github's issue tracker!
Related products:

We are happy to introduce a new product in our linup of TWI/I2C display controllers. The newcomer is a variant of our fancy TWILCD character LCD backpack that allows you to control displays that use the popular HD44780 chip using just two data lines.
The original version of TWILCD (which we will refer to as "TWILCD (Standard) from now on) supported a variety of the most common display connectors: 1x16, 1x14+2, 2x7 and 2x7+2. Although the board worked really well for these kinds of connectors, we eventually found out (thanks to excellent user feedback!) that there were some displays that we couldn't support.
The biggest missing feature in the original TWILCD, it turns out, was support for big 40x4 displays. Although these displays also utilize the HD44780 chip, they are quite a bit different. First of all, they use a 2x9 connector that has a completely different pinout from the 2x7 and 2x8 connectors. Also, since the HD44780 chip can only support a maximum of 40x2 characters, 40x4 displays actually have two HD44780 chips, making them very cumbersome to use with the standard LiquidCrystal library.
We've added seamless support for 40x4 in our new TWILCD board: Just set it up with lcd.begin(40, 4) and the TWILCD will take care of the rest (making sure to update both HD44780 chips correctly).
We also wanted to support Newhaven's 16x2 RGB displays so we included a 1x18 header and the necessary passive components to take full advantage of the RGB backlight. With the function lcd.setRGB(R, G, B) you can set the backlight color between 0 and 255 for every color. The TWILCD controller takes care of PWM the three colors seperatly.
We also added a 2x8 connector, which some backlit displays have.
You can now buy the new TWILCD with either bundled with the RGB display or as a board-only from our store.
Newhaven 40x4 displays work well with the TWILCD, as should any other 40x4 display that uses the 2x9 header.
We've updated the assembly instructions to make it easy to chose the right version of TWILCD for your display!
Related products:

We now offer two separate stands for our popular TWIDisplay 7-segment display. The new stand is slightly smaller and is produced in cool black semi-transparent acrylic.
Smoke Black Acrylic Compact Stand (left side)
A smaller form-factor smoke black acrylic stand with two mounting holes on the bottom.
Clear Acrylic Stand (right side)
A clear acrylic stand with four mounting holes along the edge, suitable both for propping up, as shown in the picture, or for securing to a bigger enclosure.
In order to make it easier to test out various features of the XmegaDuino project, we decided to start development on an Ethernet shield for the Akafuino X. During our research, we found a really cool EEPROM chip: The Microchip 25AA02E48. It only has 256 byte of memory, but it has a EUI-48(TM) certified address burnt in to the memory when delivered from the factory. 1/4th of the memory (the part where the address is written) is write protected.
For people not familiar with EUI-48(TM) addresses, they are used as unique identifiers for ethernet cards, Better known as MAC or Hardware Address.
In the Arduino world it is fairly common to just pick a address and hope that nothing on the local network has the same address. For testing that is OK, but if you have many devices on one network (or want to sell your project), it may become troublesome.
It is possible to purchase an address range from IEEE, but this will cost several thousand dollars. Also, you cannot buy just a few addresses, but will need to buy an entire range. If you instead fit each ethernet device you produce with a 25AA02E48 EEPROM, you have a guarantee unique MAC address available at a nice low cost.
We couldn't find any suitable Arduino libraries, so we decided to make one for ourself. It is available on github.
The library also supports the 25AA020A, which is essentially the same chip, but without a MAC address and the write protection.
Both chips are SPI-based, and the library should be possible to adapt to other EEPROM chips that use SPI as well.
We've added another sheet in our growing family of reference sheets. This time, it is a reference sheet for the ATXMega family of processors.
ATXMega is the big brother to the ATMega series of processors, covered in an earlier reference sheet. Compared to ATMega, you get double the CPU frequency, a built-in DAC and a lot more USARTs and PWM ports. There are also multiple SPI and TWI/I2C ports.
ATXMega processors are surface-mount only, but if you are comfortable with normal through the hole soldering, it isn't really all that hard (lots of good tutorials out there).
Our Reference sheet has the models A4, A3 and A1. As always, your feedback is welcome.
Go here to download.
Related products:

We sometimes get questions about what kind of LCD displays our TWILCD board supports.
TWILCD is based around an ATTiny 4313 uC and uses a digital potentiometer to set contrast and PWM to control the backlight. This not only frees up resources on your Arduino, but allows you to control it using only two digital pins (SDA and SCL). We have based our TWILiquidCrystal library on the LiquidCrystal library that is bundled with Arduino, so with only a few changes you should be up and running. (You need to include Wire.h and change from LiquidCrystal.h to TWILiquidCrystal.h)
Pin and header support:
Generally all 1x16 (both 1-16 and 15,16,1-14 versions) and 2x7 (+ backlight) are supported. Unfortunately 2x8 is not supported without some manual fixing with wires. (note that some 2x8 displays also have separate connectors for the backlight, marked A and K. A display like that will work.)
Character support:
Any 2-line display with up to 40 characters per line is supported. 4-line displays with 20 characters per line are also supported.
The above picture show the following displays:
1x16 pins with backlight, 16x2 LCD
2x7 pins, 20x2 VFD (with LCD compatible pinout)
2x7 pins + backlight, 20x4 LCD
2x7 pins, 40x2 LCD (no backlight)
The following code was used in this example, the only thing changed between the pictures are row, col and type:
Related products:

UPDATE: Thanks for the feedback. We've fixed a few issues, made some clarifications and added a diode to the Electronics Reference Sheet. There is also a PDF version available.
Have you ever needed to look up how to connect a n-channel mosfet or a PNP transistor? Do you ever wonder how to hook up a p-channel mosfet to drive a LED?
No need to search the internet any more: With our Electronics Reference Sheet we have gathered all this information in the same place.
We've also added a new page for our Microprocessor Reference Sheet. It currently contains the ATMega164/324/644/1284 microprocessor with Arduino pinouts (from the Sanguino project). We've also added pinouts for the serial connector (found on Arduino boards that do not have a USB to serial connector) and the 10-pin ISP connector (this connector is obsolete, and is only included for reference for people who have boards that use it. If you are designing something from scratch, be sure to use the 6-pin ISP connector. This sheet still has some room, so we're open for suggestions. Our goal is to support a wide range of Atmel microcontrollers that are available in DIP packages.
Thanks to user feedback, we now offer all the reference sheets in three resolutions: A web-friendly 75 dpi version, an A4 (210x297 mm) 300 dpi version as well as an A3 (297x420 mm) 300 dpi version.
Go here to download.
In the previous entry of this blog, we started adding a new Four Letter Word generator mode to the VFD Clock.
That entry described the code necessary to generate a data file with four letter words associations and how to access it from EEPROM. One quite important step was skipped: How to get the data file on to the EEPROM.
Now, the reason we needed an EEPROM in the first place is that the required data file is 57kb, and our ATMega328p only has 32kb in total.
The following method should work with just about any arduino: An SD card EEPROM programmer.
You'll need:
An Arduino (we used a Mega ADK, but a UNO or similar will work just as well)
A way of hooking up an SD card.
A 512kbit/64kbyte I2C EEPROM.
There are many breakout boards for SD cards available, have a look here for details: http://arduino.cc/en/Reference/SDCardNotes.
If you don't have a breakout board, it is also possible to attach wires directly to an SD card, but be careful: SD cards are only rated up to 3.3V, so you will need a level converter to control it with the SPI pins on a normal Arduino.
The code is here.
The code is very simplistic: It uses the SD library which is now bundled with the Arduino IDE, reads the file output.dat (must be stored on the root of the sd card) and writes it to the EEPROM one byte at a time. You can get the output.dat file from the GitHub repository linked above, or you can generate it using the included Processing application (as discussed in the previous blog entry).
To test that everything works, we also added an Arduino implementation of the fourletterword generator (you can use this as a base if you want to make your own four letter word device).
The catch with this method is that it is very slow: It takes a few minutes to program one EEPROM. It can probably be sped up quite a bit by writing several bytes at a time to the EEPROM, but we'll leave that for another time.
Part1: Four Letter Word Generator
Part2: Four Letter Word Generator PART 2 - EEPROM Programmer
Related products:

The VFD Modular Clock was just reviewed by Brian over at tubeclockdb.com. He made a neat video review that also shows you how to use the menu system:
The full review is here
Related products:

One of the ideas we originally had when designing the VFD Modular Clock was to add a four letter word generator mode. The IV-17 shield with its four alphanumeric isideal for this.
A four letter word (FLW) generator is, as the name suggests, a device that generates words that are four letters long. There are many ways of creating a FLW generator. The simplest is probably just to create a word list and switch randomly between the words in the list. This is sure to create occasional fun sequences of words, but most of the time it will just be, well, a random collection of unrelated words.
We decided to go with a slightly more interesting approach: An associative word dictionary. We used data files from this project: The Edinburgh Associative Thesaurus. The picture shows one of the first words it spit out during testing (a word that brings back memories of monster slaying in Dungeons and Dragons :)
The data files are stored in a relatively straight forward manner using a plain-text format. There is a list of words, and for each word, a list of associated words. This format is not very suitable for processing on a microcontroller, so first we want to parse all the data and generate a data file that is easy to read from a microcontroller.
The first thing you'll notice if you have a look at the data files, is that the database is a general word association dictionary, and most words are not four letters long. We simply throw these words away.
We wanted a data format that would satisfy two simple constraints:
It must be possible to read a word, get the number of associated words said words has, and then pick one of the associated words.

It must be possible to start at a random point in the data file and figure out where a new word starts easily.
We came up with the following scheme:
<word, 4 bytes>
<number of associations, 1 byte>
<list of 16-bit offsets to the associated words>
<end of word marker, 2 bytes, 0xFFFF>
This is of course not the only way to store the data, and not the most space efficient, but it has the advantage that the code that reads the database becomes very simple.
The Processing sketch for generating the database is here.
The generated database is 57 kbytes, which is much too big to fit into the 32k of the ATMega328P processor (of which we are already using 10kb for the current firmware). To store the data we will use a a 64kbyte (or 512kbit) EEPROM. Most I2C EEPROMs can be used, and are readily available in DIP-8 packages. Using I2C/TWI allows us to hook the EEPROM directly to the "expansion port" on the IV-17 shield.
(PS: TWI connectors are also available on the left header on the base board. They are marked SDA and SCL)
The code: Reading from an I2C EEPROM is quite easy. Here's how to read a single byte from the EEPROM in Arduino:
The firmware for the VFD Modular Clock uses a variant of the Wire library from Arduino, so this code can be transferred with very few changes.
The current code is at the branch fourletterword in the VFD-Modular-Clock repository.
The function get_word in flw.c is the core of the new functionality: It reads a word from the EEPROM, picks one of the associations randomly and returns the offset to this word. The next time get_word is called with the new offset, and the process will repeat.
This is just a proof of concept implementation: We will improve the code a little bit and turn it in to a proper display mode.
Here's a demo video:
Pretty cool, eh? :)
You may have noticed that we've cheated a little. The data file generated by the Processing application needs to be put on to the EEPROM. There are several ways to do this: But we'll get back to that in a follow-up blog post.
Another problem is that the current code uses the same random seed every time, so each time you apply power to the clock, it will show the same sequence of words. We'll need to figure out a way of randomizing the seed value.
WARNING: The database we use is based on linguistic research and is meant to measure how real people associate words. This means that it contains profanity. Also, the database is in British English, so US English users may see some unfamiliar words or spellings.
Part1: Four Letter Word Generator
Part2: Four Letter Word Generator PART 2 - EEPROM Programmer
Related products:

Get the newest version of the Microcontroller reference sheet here: Microcontroller reference sheet
It adds Arduino pinouts for the ATTiny2313/4313 as well as the ATTiny25/45/85 chips.
Update 2012.02.07: ATTiny24/44/84 added.
Arduino-tiny is a wonderful project that adds cores for a set of ATTiny processors to the Arduino IDE. It is available for download here: http://code.google.com/p/arduino-tiny/
An Arduino core is a set of low-level files that add support for a specific processor inside the Arduino IDE. The core takes care of things such as assigning digital pin numbers to the physical pins on the device, and mapping pins with PWM on them so that they can be used with analogWrite.
To use it, you'll need one of the supported ATTiny chips: We tried with our favorite ATTiny chip, the ATTiny4313. (This chip is used in many of our products, such as the TWIDisplay ).
To make proper use of the Arduino IDE, you will need to know how the physical pins on the supported chips are assigned to Arduino digital pins. The only way to figure this out appears to be by having a look in the source code, which is a bit impractical, so we decided to update our reference sheet with the pin numbers.
The new version of the reference sheet has all the Arduino digital pin assignments printed alongside the AVR port number (which is what you use when you program the chip in low-level avr-gcc. For example, pin 11 on the ATTiny2313/4313 chip has PD6/D8 printed on it. To write to this pin in Arduino, use digitalWrite(8, HIGH).
The ATTiny2313/4313 has four PWM channels, all marked with an asterisk in the reference sheet: Pins D7/D11/D12/D13. The PWM for any of these channels can be activated by using analogWrite.
The Arduino-tiny cores are all set up to use an external programmer to program the chips (attached to the ISP header). There are boot loaders available for some ATTiny chips which would theoretically make it possible to program just using a FTDI serial adapter, but since these chips range from 2k to 8k in size, a bootloader will eat up a significant amount of space.
The ATTinyX61, another one of our favorites does not appear to have a core available yet, so it has not been changed in the reference sheet.
Time for our very first "don't try this at home" post. Well, we can't really stop you if you want to, but please understand that this has no guarantee of working properly, and may in the worst case destroy your microcontroller.
According to Atmel's datasheets, the Xmega series of processors is guaranteed to work at up to 32MHz. Everything above that is unspecified, and done on your own risk.
Atmel Xmega processors have four internal RC oscillators, there's 32MHz, 2Mhz and 32.786kHz (it has two of these).
At startup the 2MHz oscillator is used, but it can be changed in software to one of the others. Several can also be running at the same time, used as the time base for different parts of the processor such as the real time clock and counter.
There are also ports for connecting an external crystal or clock and there's an internal PLL that can be used to multiply any of these clock signals.
The XmegaDuino IDE sets up the processor to use the internal 32 Mhz oscillator. It does that with code that looks like this:
This code sets up the system to run directly off the 32MHz clock, without involving the PLL unit. If you want to go higher than 32MHz, you need to do so via the PLL.
First, let us try and set up the PLL for 32MHz:
The PLL can take its clock reference from one of three sources. The internal 2 Mhz clock, the internal 32 Mhz clock (which is divided by 4 before going into the PLL) or an external clock source.
If you want to do this in XmegaDuino, the code can be put in the setup() part of the sketch.
By now you may have guessed that you can overclock the processor by simply giving it a higher multiplication value. As stated earlier, this is not a supported configuration, so it may not work at all, could make your processor go very warm, or may break it completely.
To test the overclocking, we use tronixstuff's [1] test code from the Akafuino X review, and added the code above in setup().
To use 48MHz, you need the following:
We got the following result with 4 runs:
Duration: 1872ms
Duration: 1872ms
Duration: 1872ms
Duration: 1872ms

For 64 Mhz:
We got the following result with 4 runs:
Duration: 1352ms
Duration: 1352ms
Duration: 1352ms
Duration: 1352ms

Note that the baud rate for the serial port will also increase so if you use Serial.begin(9600) you need to set the serial log window to 14400 or 19200 respectively to get readable output.
The time functions (millis etc) in XmegaDuino all use the internal 32.768 khz oscillator and are thus unaffected by the core clock settings.
We let the Akafuino X run at 64 Mhz continuously for 10 minutes doing continuous calculations. It worked without problems and the processor didn't get noticeably warmer during the test but your milage may vary. An important thing to take note of is that even though we were able to run our test code successfully at 64MHz, there is no guarantee that all parts of the processor are running correctly (we're running outside of spec, remember). Also, the acceptable ambient temperature range of the processor may be affected.
References:
Tronixstuff's xmega speed test code is here [1]
AVR1003: Using the XMEGA™ Clock System
XMEGA A MANUAL
PLL explanation on Wikipedia

Related products:

Time for this year's first new product post.
Up for offer this time, is our brand new Shift Register Breakout Board: an easy to use breakout board for the popular 74HC595 shift register.
A shift register is a simple way of adding extra outputs to a microcontroller. The breakout board contains two shift registers daisy chained and gives you 16 new outputs using just three control lines.
The Shift Register Breakout Board is made for easy use on a breadboard just plug the board into your breadboard, attach the wires from the top header to your microcontroller and you are good to go. VCC and GND are also broken out allowing you to easily attach them to the breadboard power rails.
Have a look at the Shift Register Breakout Board Product Page for more information.
Also, don't forget our other recent additions: The The TWILCD dot matrix LCD backpack and our beefy new microcontroller board with a mighty XMega microcontroller.
The Akafuino X is finally in stock in our store!
It is a microcontroller board based on the Atmel XMega32A4 microcontroller.
It can run Arduino sketches (using the XMegaduino project, which is a variant of the Arduino IDE that supports XMega processors) and has an Arduino form-factor so you can use it with many existing Arduino shields.
Highlights of the Akafuino X includes 5 UARTS, 32kHz clock speed, 16 PWM pins, onboard DAC and RTC, 5V tolerant input and compatibility with Akafugu Arduino libraries.
We chose to name our VFD clock "VFD Modular Clock." The "Modular" part of the name refers to two things. The most obvious is that the clock comes in two parts, a base board that contains all the clock logic and VFD driver hardware, and the display shield that contains the actual display tubes.
The other reason for chosing the name "VFD Modular Clock" was with the intention of adding support for other types of VFD display tubes later on.
With that in mind, let us have a look at some of the display tubes we are in the process of beta testing. Keep in mind that these may not all make it to the final product stage.
First, here is the IV-6 shield:
The IV-6 VFD tube is a small 7-segment tube. We were able to fit six of them on the shield so it can show seconds as well as hours and minutes. Since it is only 7 segments, it is not be able to show all letters.
Next is the IV-22 shield:
The IV-22 is a top-view display tube, and gives the clock a uniquely different feel. These tubes are quite power-hungry and will consume almost twice as much electricity as the IV-17 shield (about 0.4A average at 9V).
Finally, here is the IV-18 shield:
The IV-18 is another very unique looking tube: 8-digits all contained in one long tube. The brightness is not too good in the current version, so that will need to be tweaked. On the upside, the IV-18 tube is very easy to drive and consumes significantly less electricity compared to the other tubes. Also, the filament runs on 5V, so it doesn't require a resistor for the filaments, further simplifying the design.
Note the wires that run on the back side: The 5V and GND connector is on the left side only, so two wires are needed to light the tube up. We will need to add some sort of support to make the tube straight as it will tilt downward when unsupported.
Finally, have a look at this cool case that our friend @ourmaninjapan made for his VFD clock:
It is made from a simple balsa-wood case that he got from Amazon Japan. The wood is soft and easy to cut and the result is pretty neat.
Related products:

Our opening hours for Christmas and New Year
The Japan post office is closed December 23rd and January 1st to 3rd as well as January 9th. Apart from that we are open for business. Orders are normally processed the day after we receive them, Japanese time. Orders placed during the weekend will be posted on Monday.
Dot matrix LCD displays are great when you need to display some textual data. Thanks to the Arduino LiquidCrystal library they are also super-easy to use. There's only one problem: To hook one up you will need a minimum of 10 wires, as well as a potentiometer to control the contrast. If you want to be able to dim the backlight you will also need to sacrifice a PWM pin.
Now, hooking up ten wires may not sound so bad, but considering how useful dot matrix LCD displays are both for debugging and for final products, you may find it tiresome to re-wire the display for every single project you want to do.
To solve this problem, we developed the TWILCD dot matrix backpack. It is a simple controller board that attaches to the back of the LCD display and can be easily controlled from any microcontroller that supports the TWI/I2C protocol with only four wires.
We provide an arduino library on GitHub. It is fully backward compatible with the original LiquidCrystal library, so any sketch written using it can be converted by just changing a single line of code.
The Arduino library also supports setting display constrast and backlight brightness.
The name may be long, but the concept is deceptively simple: An Arduino on a breadboard.
When you want to breadboard a microprocessor-based project you may find it annoying to have to hook up all the wires for the serial port or the ISP port to be able to program your microcontroller. ISP ports are especially tedious since the required 2x3 plug does not work well with the layout of a breadboard. Even if you don't mind hooking up the extra wires, they easily get in the way and eat away space that you could use for your actual project.
Furthermore, once your project is finalized and you are ready to move it over to a more permanent form on a perfboard or similar you no longer need the ISP or serial port.
The Akafugu Serial and ISP Breadboard Adapter simply plugs in on top of an ATMega328P microcontroller in a breadboard. With it plugged in you have easy access to the serial port (where you can plug in a FTDI adapter to program the microcontroller in the Arduino IDE) and to an ISP header that allows you to program it using avrdude (ISP programmer required).
The Adapter with an ATMega328P microcontroller and breadboard (or just the Adapter alone if you already have an ATMega328P) is now in stock in the store. It is available in three different versions:
Board only for those who already have a ATMega328P microcontroller
As a set with a breadboard and microcontroller with 8MHz bootloader
As a set with a breadboard and microcontroller with 16MHz bootloader (comes with crystal and two 22pF caps)
Use it for prototyping, and when you are finished with programming, simply remove it: The remaining components can then be soldered on a perfboard.
We've added a some exciting new products to the shop:
The VFD Modular Clock is a clock based on old-fashioned VFD Display Tubes. Now in stock in the store!
The blinking DIY Christmas Decoration.
A simple acrylic stand made especially for the TWIDisplay. Has four mounting holes for the TWIDisplay PCB as well as four holes around the edges that can be used for mounting or to attach legs to.
Four screws are included to mount the display, as well as two stand-offs that can be mounted on one side to prop the display up on any flat surface.
A battery pack that holds two AAA batteries. Comes with a slide cover, on-off button and color coded wires (red for VCC and black for GND)
A battery pack that holds three AAA batteries. Comes with a slide cover, on-off button and color coded wires (red for VCC and black for GND) CR1220 Lithium Battery
A small 3V lithium battery.
Used as the backup battery in the VFD clock, and the main power source of the XMAS christmas decoration.
Tokyo Hacker Space will be selling the The VFD Modular Clock and the XMAS Christmas Decoration at their stand at the Make: Tokyo Meeting 07 today and Sunday!
Exciting news: The Arduino team just released Arduino 1.0!
We have updated our Arduino packages to 1.0. These packages include all the Akafugu libraries (but are otherwise the same as the ones available on the Arduino homepage).
If you have already installed version 1.0, you can also download the Akafugu Libraries Package.
To use it, just unzip the file inside the libraries subfolder of your Arduino installation. (on mac you will need to click "Show Package Contents").
Our libraries are all made for Arduino 1.0 and newer, so update now if you are using a beta version!
A few months back we took over maintenance of the Xmegaduino project. Xmegaduino is a fork of the popular Arduino project, and the goal is to add support for Atmels Xmega line of processors.
Our goal is to make the Xmegaduino IDE compatible with as many Arduino sketches as possible. That way, you just have to select your xmega board in the Boards menu of the IDE and hit compile to have the sketch recompiled for Xmega!
We use the two-wire protocol (TWI/I2C) for many of our products. We really like the fact that it easily allows you to control many different devices using just two wires! TWI/I2C is also super- easy to use in the Arduino IDE thanks to the Wire library.
We have now finally succeded in making the Wire library compatible with Xmegaduino. This means that you can use our upcoming board, or any other Xmega board with our products such as the TWIDisplay and TWIKeyboard . Our Wire-based Arduino libraries on GitHub work as-is.
The base of the new Wire implementation is from the xmlibraries project. After a few tweaks, it now works as a drop-in replacement for the Wire library: Just include Wire.h as normally, and everything should work. The Wire object points to TWI interface on port C. Wire1 to Wire3 will also be defined depending on which board you are running on, as some Xmega processors have several TWI interfaces.
Related products:

We have a weakness for VFD displays at Akafugu, their warm blue glow make us feel good just by looking at them. We also have a weakness for old technology, which is why we designed the VFD Modular Clock.
The VFD Modular Clock is a clock based around old VFD Tubes. The pictured tubes are Russian IV-17 tubes. They were produced in Russia (as well as other ex Soviet countries) well into the ninties until production was finally abandoned. At this point there were warehouses full of old technology that no one wanted any more. However, recently there has been a revival, these old tubes are being put to use by hobbyists to build clocks and other displays.
The VFD Modular Clock will soon be available as a kit in our store! As the name implies, the clock is modular: There are two boards, the base board that contains a ATMega328P microcontroller as well as all the power supply logic needed to generate the 26V voltage that these tubes run off. The shield board contains the actual tubes: At launch only the IV-17 shield pictured above will be available, but we are working on adding more shields soon.
Each shield is coded with a 3-bit code so that the firmware can know which shield is connected and adjust display automatically!
Head on over to the Product Page for more information.
We will be presenting the finished version of the clock at Make Meeting 07 in Tokyo!
Meet the Akafuino X - A microcontroller board based on the Atmel XMega32A4 microcontroller:
Highlights of the XMega processor:
5 UART's with individual speed setting
Runs at 32MHz
32k of flash memory
Onboard DAC
The Akafuino X can run Arduino sketches. It's all thanks to the awesome XMegaduino project!
XMegaduino is a fork of the Arduino project: It adds support for the XMega line of processors to the Arduino IDE.
Akafuino X features:
Arduino form factor, compatible with tons of Arduino shields
Runs on 3.3V
All digital inputs are 5V tolerant
Compatible with all Akafugu Arduino libraries and products such as TWIDisplay and TWIKeyboard
When to use the Akafuino X over an Arduino board:
When you need a little more processing power (twice the amount of clock cycles!)
When you need a DAC (comes with a two-channel DAC onboard)
When you want to interface directly with 3.3V logic (no level converter neccesary)
When you need more I/O pins, Akafuino X adds 8 extra.
When you need a built in RTC.
The Akafuino X (along with XMegaduino 1.0 beta 1) is coming soon to the Akafugu Store!
Special thanks to Alex for the amazing work on avr-xboot.
All our PCB designs are done in Eagle. While Eagle's UI is arguably not the most intuitive, once you get past the speed bumps it is a very powerful package.
One thing we were really missing in Eagle was a good way of visualizing designs before production. We are notoriously bad at wrapping our heads around how text you put on the back side of a pcb will end up looking, since in Eagle you will only see the design upside down and mirrored.
Another thing that can be difficult to visualize is how far away components are from each other and how the board will look with low and high components mixed together.
Enter EagleUp, a plugin that allows you to easily generate a 3D model of your PCB for viewing in SketchUp (available for free: Google SketchUp) It comes in two parts: An ULP script for exporting your PCB from Eagle, and a SketchUp plugin.
EagleUp worked great for visualizing the PCB straight out of the box, but we found that parts for a lot of the footprints we were using were missing.
Here's the PCB for our Serial and ISP Breadboard Adapter :
Looks pretty good, but we really want the components to show up. So we went to work creating extra components in SketchUp. Here's the final result:
Much better, right?
The plugin was apparently inspired by the instructions for how to do this manually for 2D pictures in photoshop:
Using Photoshop to create a realistic PCB image
The gradients and "shinyness" added make this look arguably better than the EagleUp version, but it is in 2D only and thus much more limited. There are no components either of course, and currently it is a manual process.
You can download the models (components) we created in SketchUp at our GitHub page. More to come!
Posted by Per Johan Groland
Having just got hold of a shiny new license of OmniGraffle, I figured a good way to start learning how to use it was to create a microcontroller reference sheet, or a microcontroller cheat sheet as they are often called.
My microcontroller world is dominated by AVR, specifically the ATmega328 is my default go-to chip, which is pretty common I guess. It is after all the chip of the Arduino. I like ATTiny too, specifically the 2313 and its new 4k bigger brother the 4313. For situations where a A/D converter is required, the 861 or 461 is perfect. Finally, the ATTiny25/45/85 is great for when you need something that is mostly code, and just a few I/O lines are enough.
All the chips are marked with port names as well as main functions, such as TX/RX, TWI and SPI. Pins that have PWM are also marked.
The sheet is available for download here: Microcontroller reference sheet
Posted by Per Johan Groland
A while back I picked up an analog panel meter from Adafruit. It was part of a bigger order, and I added it to my cart as an afterthought: It looked cool and was analog. It's been sitting on my shelf doing nothing since then, so I thought it was about time to try and put it to some proper use. It can measure 0-50 uA of current, and I decided to use it as a thermometer. Luckily, we never really get temperatures below freezing in Tokyo, so just using the scale from 0-50 is fine.
The ATTiny13 is another part that's been lying around for a while without being put to any good use. It has only 1k or flash memory, so it fills up very quickly. I figured 1k ought to be enough for a simple thermometer though.
For the temperature sensor, I used the DS18B20 onewire sensor. Onewire is a complex protocol, and since this was meant to be a quick one-night project, I went looking for a library. There is a good one here, but it's too big to fit into the ATTiny13. After scanning around a bit more, I found some much more compact code, basically an older version of the same library. After trimming this down, I was able to fit everything into 1k.
The code for "writing" the temperature to the uA meter is quite simple: Just set up PWM on a pin, and change the duty cycle to control how much current the panel sees. It's hooked up with 5V through a 100kohm resistor, as suggested on the Adafruit product page [link].
The code is here: https://github.com/akafugu/uA-thermometer