Read about our electronics adventures!
First of all we are sorry that it has taken so long between beta4 and beta5.
A lot has happen since the beta4 release. The 1.5.x releases of Arduino are currently in beta, but to be able to proceed with releases in the future we decided to go with the 1.5.x line.
Lately Arduino has also started looking at updating the compiler (something Xmegaduino desperately needs as the Xmega series is not supported in the avr-gcc version that is shipping with Arduino.)
Beta 5 contains:
New avr-gcc 4.8.1 for all platforms (including support for the USB versions of Xmega and very recent chips)
A new library structure
Some of the libraries have been rewritten to use the SPI library (eg SD library)
Get the new Xmegaduino beta5 here! For linux users, please rename .tar.gz.zip to .tar.gz.
Please give the new beta a test-spin and report any problems in github's issue tracker!
関連製品:

Akafugu recently purchased a new Pick and Place machine. We bought it locally here in Japan, from MDC co.,ltd.
It has a big tray holder space, and to save a bit on cost, we decided to try making our own DIY trays for some of the bigger parts we use.
Here is the result and build, we used two sheets of 2.5 mm MDF glued together. The bigger hole at the bottom is for using the reel tape for some very tall components (10mm high). It works great, and we are very satisfied with the result.
Our pick and place machine can take variable sized trays, but we wanted to be able to use both our DIY tray together with regular JEDEC trays.
Here are some resources for JEDEC trays:
A regular JEDEC tray is 322.6 x 136mm, so we made our trays 136mm wide as well.
To make the tray design, we used Sketchup and the Svg output plugin.
We ordered the laser cutted 2.5 mm MDF from our good friend Emerge+.
Start by putting the top panel up side down and insert the 3 mm screws, they will later be used to align the top and the bottom pieces.
We used Loctite Mini as glue, but any glue should do. After applying the glue to the back side of the top layer we put on the bottom and secured the screws. We put some clamps on to hold the panels properly together while the glue cured.
This is the end result with some components placed. The only problem was the lower left diode, it was a bit bigger than the pocket so we couldn't use that space, but other than that is was perfect.
ついにストアで購入可能: ダイエットニキシー (Diet Nixie)、新しいNixieクロック。
ダイエット二キシー時計(Diet Nixie)は、オールドファッション風のネオンニキシー管を使った、 スタイリッシュな組立時計キットです。
ニキシー管は、かつてマルチメーターや電卓、軍装備品など、初期の電子機器用ディスプレイとして 主に用いられていました。ニキシー管は、金属製の網の形状をした1つの陽極と、一般には0~9の形を した10個の陰極を持ちます。数字以外のシンボルの形をしたニキシー管も一般的です。陰極と陽極の 間に約170~180ボルトの電圧をかけると、陰極がその特徴的な黄色がかったネオン色を発光します。
赤フグニキシー時計は、ケースに基板ボードを組み込んだ、ユニークな外見の3つ基板モジュールに なっています。前面および背面のパネルが基板ボードでできており、側面にはスモークブラックの アクリルが張られています。その結果、モダンとレトロ両方の外見が組み合わされた、 とてもシンプルでコンパクトなニキシー時計となっています。
この時計には革新的な操作方法が採用されており、ディスプレイボード上には押しボタン式 のロータリーコントローラー1つと、LEDインジケーター3つが配置されています。
Now available in the store: The IV-18 VFD Modular Clock.
We sold this version of the clock at Maker Faire Tokyo 2013, and ran out of PCBs, so we had to delay launching it on our site until today.
IV-18 is a elongated single-tube 8-digit 7-segment VFD tube, giving the clock a significantly more compact look than the other available display tubes.
At the same time, we're also releasing a custom enclosure for the IV-18 shield that we think gives the clock a very compact and stylish look:
The IV-18 display shield comes in two compact PCBs, and just like the IV-4 and IV-6 shields, it comes with half-cut holes for super-easy mounting of the display tube.
Have a look at the product page for more information.
Click here to buy the IV-18 Clock
Click here to buy the IV-18 Enclosure

赤フグに新しい商品が追加されました。Freetronicsの商品です!
Arduino プロトシールド
プロトタイピングシールドは2種類から選べます。
このプロトシールドはISP/SPIヘッダー用のブレークアウトも含め、Arduino R3のピン配列を備えています。リセットボタン、パワーLED、デカップリングコンデンサを取り付けるスペースも備えています。
ボード両面のピン配列のマーキングはとても便利で、また、プロトタイプ領域の横にはくっきりマークした5Vとグラウンドの電源レールが通っています。さらに、すべてのArduino ピンにアクセスできるように追加のピン列が用意されています。
ProtoShield Basic R3には、スタッカブルヘッダーとその他の部品 (LED、抵抗、0.1μF セラミックコンデンサ、リセットボタン) が付属します。
このショートタイプのプロトシールドは、イーサネットシールドなどの左側に突き出す部品があるシールドと併用する場合にきわめて有効です。
リセットボタンを取り付けるスペースを備えており、プロトタイプ領域の横にはくっきりマークした5Vとグラウンドの電源レールが通っています。また、すべてのArduinoピンにアクセスできるように追加のピン列が用意されています。
ProtoShield Shortには、スタッカブルヘッダーとリセットボタン が付属します。
3.7Vのリチウムイオンポリマー電池用高性能充電器です。電池を携帯電話充電器やコンピューターなどのUSB電源に接続するだけで充電が可能です。
高性能のリチウムイオンポリマー電池制御チップを搭載しており、充電量を制御するとともに充電の終了を検知します。最大充電電流をはんだ付けジャンパーで設定することができるので、特定のリチウムイオンポリマー電池への適用に対応することができます。
Maker Faireで蛍光表示管モジュラー時計 (IV-4/IV-6/IV-18/IV-22) をご購入になったお客様へ
Maker Faire Tokyo 2013では、私達のブースにお越しいただきありがとうございました。
梱包時の手違いにより、 販売された蛍光表示管モジュラー時計/VFD Modular Clock (IV-4/IV-6/IV-18/IV-22) に圧電ブザーが含まれていないものがありました。
対象の商品をお持ちのお方は、info @ akafugu.jp宛てにお名前とご住所、ご購入されたキットの種類をお知らせください。部品をすぐにお送りいたします。
お客様にご迷惑をおかけした事をお詫びいたします。
関連製品:

Halloween is coming up, and we wanted to create a simple LED contraption to add eyes to Halloween decorations.
Here's the result:
To get it up and running quickly, we started with our XMAS decoration and it's source code. There aren't that many connections, so starting with just a bare ATTiny13A chip and a perfboard is pretty simple too.
The microcontroller is an ATTiny13A, which has two PWM-capable outputs, just the right amount for adding two LED eyes!
The timer that switches between pattern has been set to use the built-in watchdog timer, which fires an interrupt around every 5 seconds.
Here's the schematic:
Source code available at Github.
Parts list:
1x Attiny13A microcontroller, DIP-8
2x LEDs
2x 500 ohm (depending on the kind of LEDs you use and your desired brightness)
Wire and hot glue to mount in a case of your choice
A battery box (2 or 3 AA or AAA batteries, make sure to not use more than 5V)
Here's the PCB with IC socket and resistors mounted and wires attached to the LEDs.
This is the decoration we're modifying. It's a cheap decoration from the local dollar store.
The wires of the battery holder are soldered directly to the PCB:
The breathing pattern is based on the code here.
Suggestions for improvements
The breathing patterns for the LED can be modified to be smoother.
Clever use of sleep mode could reduce power consumption a bit (although most of the power draw is from the LEDs)
The LEDs don't turn off completely when the PWM duty cycle is set to 0. This is simple to fix, but we ran out of code space so we left it for now.
We've just released a new version of the firmware for VFD Modular Clock mk2 with a number of bugfixes and new features.
New features:
Dedicated display mode for Four Letter Word

This display mode will continuously show four letter words, with time shown for five seconds every minute. (Date scrolling and temperature display also works)

Four Letter Words now also move around when a 6 or more digit shield is used.

Progressive alarm setting

New setting to switch between progressive alarm (with snooze) and regular continuous alarm.

Various bugfixes:

EEPROM cleaned on first boot
Exit auto date/temp/time display by pressing button
TEMP setting is now checked before displaying temperature
Get it from Github!
関連製品:

Johan from Sweden recently bought no less than three Vetinari Clocks from us, and used them to make this incredibly awesome music video:
お盆休みのために、以下のセールを実施します。
20 % OFF 蛍光表示管モジュラー時計 と 赤フグニキシー時計 **
チェックアウトで2013OBON20クーポンを使用して下さい。
15 % OFF cMoy Headphone アンプ と シンプルクロック
チェックアウトで2013OBON15クーポンを使用して下さい。
他の商品は、2013OBON5クーポンにより5%引きでお求めになれます。
Tindie ストアと Amazon ストアでもセールを実施中です。
赤フグニキシーはフルフィルメントby Amazon™にてお求めになれ、日本のお客様には翌日配送できます。
全部のセールが8月10月(土)から8月18月(日)まで実施されます。
関連製品:

We are proud to announce our first DIY audio kit: The cMoy Headphone Amplifier kit.
The cMoy is a headphone amplifier kit based around a single dual-channel opamp, suitable for use with portable audio equipment, smartphones, computers etc.
It is based on a design well-known in the DIY Audio community. We've partnered up with Praktisk Audio, a newly launched audio brand and made it into an open source hardware kit that is easy to assemble for anyone looking for a starting point into the world of DIY audio.
We use high-quality parts sourced in Japan, including Rubycon capacitors and a NJM4556AD opamp. The potentiometer is a 10kΩ ALPS potentiometer with built-in on/off switch.
The cMoy comes as a kit, and includes the PCB board and all the components you need.
No amplifier would be complete without an enclosure, so we are offering a choice of two beautiful aluminum enclosures. Both are Made in Japan by the company Takachi.
The standard enclosure is in aluminum with custom-made black acrylic front panels. The deluxe enclosure comes with beautiful custom-cut aluminum front and back panels with high-quality silk screen.
The only thing you will need to add yourself is a 9V battery, audio cable (mini jack male-male, available in our shop) and headphones.
Freetronicsより CUBE4: 4x4x4 RGB LED Cube の発売開始を、ここに喜んで発表致します。
ウェブサイトでの紹介は以下の通りです:
Freetronicsは2010年初めに、Practical Arduinoの共同執筆者であるJonathan Oxerと技術校閲者であるMarc Alexanderによって、キット、パーツ、その他同作品に関連する様々な物へのの膨大なのリクエストの結果として作られました。我々は、数多くの商品を発表し、さらなる商品開発に取り組んでいますが、それは他の人々による製品を基礎として我々が商品を開発したように、我々の製品を基礎としてみなさんが制作できるよう我々のデザインをシェアするという、オープン・ソースの原則に基づくものです。
弊社は、主力製品である以下2製品の新バージョンを近々リリース致します。 製品名: 赤フグニキシー時計 と 蛍光表示管モジュラー時計 .
本日より、 赤フグショップ , Tindie and Amazon で注文いただいた場合、新しいバージョンを発送致します。販売代理店によっては旧バージョンの在庫が残っている可能性がございます。
旧バージョンも、引き続きサポート対象となります。また、以下記載のファームウェアのエンハンスメントも適用されます。
蛍光表示管モジュラー時計
これはベースボードのみのアップデートであり、表示のシールドは変更されていません。
また、筐体の変更もありません。元の蛍光表示管モジュラー時計はネイティブ avr-gccファームウェアを使用しておりましたが、より誰もが扱いやすいファームウェアに変更、増強すべく、 Arduino対応の新しいリヴィジョンを開発したいと考えました。
最大の変更点は以下の2点です。
マイクロコントローラはATMega32U4に変更しました。これはArduino Leonardoブートローダーであらかじめロードされ、USB mini-bケーブルをコンピューターに差し込むだけでアップデートが可能です。

高電圧発生装置はより進化したMAX1771コンバーターチップを使用するためにアップグレードされました。これにより、5Vから40VDCの発生が可能となり、それにより時計全体がUSBポートから直接電源供給されることになります(もしくは5V USBアダプターを用いて)。
新しいArduinoベースのファームウェアが新しいボード用に作成されました(機能は以前のバージョンと同様です。GPS及び日付設定がサポートされます。)
価格は以前のバージョンと同一になります。
弊社はUSB mini-bケーブルを全ての時計に同梱いたしますが、これには電源アダプターは含まれません。
新機能概要 :
USBインタフェース搭載 Atmega32U4マイコン
Arduinoベースファームウェア、Arduinoブートローラー
5Vの直接電力供給 : アダプター、コンピュータからの直供給どちらも可能
GPSモジュール取り付け用ヘッダー内蔵 (詳細後述)
標準VFD Modular Clockシールド互換
新ファームウェア (VFDDeluxe]といいます) はこちら:
赤フグニキシー時計
新バージョンのニキシー時計の特徴は、たコントロールボードおよびディスプレイボードの回路図が改訂されたことです。特に、ドライバが変更され、サブ表示のネオンがオレンジのフラットトップのLEDになりました。
新しいリヴィジョンにした目的は、部品を継続的に調達しやすくするためです。また、将来にわたって同じ価格を維持するというねらいもあります。また、主に在庫確保が困難な部品を差し替えるため、部品も変更させて頂きました。
使用方法という点では、あまり大きな変更はございません。また、外見的なデザインの変更としては唯一、デザイン、 コロンセパレーター用のINS-1ネオン管をやめ、オレンジ色LEDに変更しました。とはいえ、時計の見た 目は変わらず、ファームウェアも基本機能は同じです (ただし、バージョン1、バージョン2両方に適用される 新機能も追加されています)。
内部的には大きな変更点がございます。最も大きな変更点は2つ、ひとつは、ニキシードライバをロシアのK155ID1から、より新しい HV5812ドライバに変更したこと、もうひとつはアノードドライバーのため、オプトトランジスターから一般的な高電圧 トランジスターに変更したことです (コントロールボードは変わらず最大6管まで処理可能)。
The Akafugu Nixie Clockファームウェアはこの新リヴィジョンのハードウェアに対応できるようアップデートされています。
変更詳細 :
HV5812 ニキシー陰極ドライバ ( K155ID1より変更)
MPSA92/MPSA42 のトランジスターの組み合わせによる陽極駆動
コロンセパレータ用、5mmフラットトップオレンジLED ( INS-1より変更)
LED用2N7000 MOSFETドライバー ( ネオンドット駆動用MPSA422個より変更)
パワーボードのインダクターを470μHから100μHへ変更
コントロールボード - ディスプレイボード間接続に、34pinシングルコネクター使用 (14pinパラレルコネクターより変更)
変更されていない点 :
パワーボード (100μHインダクターへの変更を除く)
DS3231Mリアルタイムクロック
ATMega328Pプロセッサー
ハードウェア互換性
コントロールボードとディスプレイボードのリヴィジョンには、互換性がありません。例えば、リヴィジョン1のコントロールボードとリヴィジョン2のディスプレイボードを併用することはできません。
リヴィジョン2のパワーボードはそのままリヴィジョン1のコントロールボード、ディスプレイボードと一緒に使用することができます。リヴィジョン1のパワーボードはそのままではリヴィジョン2のコントロールボード、ディスプレイボードと組み合わせて使用することはできません。470μHインダクターから100μHインダクターへの交換が必要です。
ファームウェア互換性
こちら [[[ github]]] で 入手できるファームウェアは、ニキシー時計の全リヴィジョン、ダイエットニキシー時計 (近日発売予定) にも対応しています。
コンパイルするボードを間違えないよう、global.hファイルの先頭部分をご確認下さい。
以下のように記述されています。
この中でコンパイルしたいボードをコメントアウトして下さい。
追伸 : アップロードするファームウェアを間違えても時計に危害を加えることはありませんが、正常に動作しません。
初代リヴィジョンのニキシー時計をお持ちの方へ
当該バージョンは引き続きサポート対象となります。今後ファームウェアがアップデートされた場合も初代バージョンのサポートは継続する予定です。
Fab Cafe is a cafe in Shibuya, Tokyo where you can rent access to a laser cutter or a 3D printer.
We don't have our own laser cutter yet (the enclosures we sell are produced by Emerge plus), so in order to get a bit more hands on with the actual laser cutting process, we decided to take a trip to Fab Cafe.
They have recently changed their reservation system, so that Thursdays to Sundays are "Open Fab Time" only. This means that you just show up on the day, write your name on a sheet of paper to reserve a slot on the laser cutter or 3D printer. The maximum time you can reserve is 30 minutes, but this is the raw cutting time, and does not include the setup.
When we arrived on Sunday it was pretty crowded, so we had to wait almost two hours for a slot, but we had anticipated that and spent the two hours finalizing the designs to cut. We usually use Sketchup (in conjunction with EagleUP) as well as Inkscape to produce the cutting templates as SVG files. Fab Cafe recommend that Illustrator format be used, which turned out to be a bit clunky: Illustrator didn't like all the SVGs that Inkscape produced. In the end, we managed to work that out though.
Another issue was that since Inkscape and Illustrator use different DPI settings, the Illustrator files ended up too big and had to be scaled to 80 % size to be correct.
After that it was smooth sailing though. The staff was very helpful and showed us through the whole process. The laser had some small issues that day, so some of the cuts had to be run in two passes, but once that was done the results were perfect. (the extra pass did not count into our cutting time).
Here's a picture of the laser cutter in action:
We cut prototypes for lots of different cases, including a case for the IV-22 VFD Modular Clock . We're happy with the design, but we accidentally made the whole case 2mm too low, so it will need one more iteration:
We also cut a case for the Diet nixie (our new nixie clock which we promised to release a while ago). We're still not 100 % satisfied with the legs (they are a bit too loose), so we'll have to do one more version.
Some pictures of the prototype cases are below. The final one is a case for the VFD Modular Clock: Raspberry PI edition board we're working on.
Fab Cafe has an English webpage: http://tokyo.fabcafe.com/en
It is often a bit crowded, but be patient and your visit will be very worthwhile! Since it is a cafe, you can enjoy coffee and cakes while you wait for your time slot. There are tables with power outlets for your laptop as well!
関連製品:

We've added an alternative firmware for the LED Candle to the git repository.
The firmware is courtesy of madworm, and features a much slower flickering style than our original firmware. This firmware uses PWM to modulate the LED brightness, and the PWM duty cycle is changed pseudo-randomly to simulate the flickering.
We will continue to ship the LED candle with our original firmware, but we wanted to add this firmware as well since it both demonstrates a different method for simulating flickering but also gives a visibly different flickering style.
The original firmware is found in the firmware subfolder, and the new firmware is in firmware_pwm. An ISP programmer is required to flash the firmware. Also note that the two firmwares use different fuse settings, so to program, first change to the desired directory, then do "make fuse flash".
Sneak preview from the Akafugu labs: VFD Modular Clock: Raspberry PI Edition
Here's a brand new board we're working on: A version of our VFD Modular Clock that plugs in on top of a Raspberry PI as a shield. It is the perfect way to bling up your Raspberry Pi, by adding an attractive retro VFD display on top!
It comes with an on-board co-processor in the form of an Attiny4313 that takes care of driving the display shield, and makes sure that the display can run flawlessly even when the system load of the Raspberry PI is high.
You communicate with it using hardware SPI, and we're writing code for it in Python, making it very easy to talk to!
The most obvious thing to do is of course to show time, but with all the power of the Raspberry Pi at your fingertips, you can display all sorts of other information, such as the system load, uptime, display information from your facebook or twitter or use it as a quick display for other hardware devices you have attached to your RPi.
To make the board friendly to hardware hackers, we've added a 16-bit I2C GPIO expander, giving you easy access to 16 5V IO ports. (In the picture below, you can see the space for the chip in the top left).
Today we release another display shield for our VFD Modular Clock: The much-requested IV-22 shield , that we showed a prototype of over a year ago.
IV-22 are top-view single-digit Russian VFD Tubes. They have excellent brightness and large easy-to-read segments.
We decided to go for a 6-digit shield, which makes it wider than the IV-4/17 and IV-6 shields. We're working on a case too, but it is not quite ready yet. In other words, you are on your own when it comes to the case.
Have a look at the product page for more information.
Our friend Yamada-san from Emerge Plus recently went to Osaka to join an event there. While there, he stopped by the Kyohritsu Silicon House shop in Den-den Town, where Akafugu products are now prominently displayed near the shop entrance.
He took this snapshot:
Albert, from the Surrey Hampshire Hackspace held a Raspberry Pi event this weekend.
He put together this useful handout, incorporating our electronics reference sheet and various other useful resources, including a command line reference for beginners to Linux.
It is no secret that we're fascinated by clocks at Akafugu. We're also big fans of the hugely popular Discworld series by the venerable Sir Terry Pratchett.
Lord Vetinari is one of the many recurring characters in the series. He is a powerful man, and the ruler of the biggest city on Discworld, Ankh-Morpork.
He is in possession of a very strange clock: It ticks irregularly but still keeps accurate time. It hangs in his waiting room, and is designed to be unnerving for the people who are waiting to meet him.
We've turned this concept into an easy to solder electronics kit! Available now in our store, either bundled with a wall clock to modify or standalone so that you can modify your own clock!
The concept and firmware is based on a design by Simon Inns, and everything is released as open source hardware.
About a year ago we published an article about adding a Four Letter Word generator to our VFD Modular Clock .
The result was a Four Letter Word (FLW) generator based on a real-life word association dictionary. It requires an EEPROM to run, so it was a bit cumbersome to set up.
To make it easier for anyone to add Four Letter Word functionality, either to their VFD Modular Clock or to any Arduino project, we've made a small add-on board. It comes with a pre-programmed EEPROM and we've create a simple Arduino library.
Usage with VFD Modular Clock
The latest firmware supports the FLW Addon.
To update the firmware you will require an ISP programmer. See our guide for details.
The Four Letter Word Generator add-on board can be soldered directly to the expansion header of the IV-17 shield or underneath the base board.
Usage with Arduino
Get our Arduino library from github!
Just hook up VCC, GND, SDA and SCL and run the simple example included in the library to see four letter words generated in the serial console.
Depending on the board and whether or not you have other I2C/TWI devices attached at the same time, you may also need to add pull-up resistors to the SDA and SCL lines (around 4.7k)
Here's a sneak preview of our upcoming new Nixie clock: Diet Nixie!
It was pretty difficult to photograph, so rest assured that the display brightness is better than it appears in this picture.
We showed an earlier prototype at the Tokyo Maker Faire in December, and now we've finalized the PCB design and are working the case design.
The name Diet Nixie comes from the fact that the development of the clock started out as a desire to create a more economical version of our original Nixie clock .
To do this, we slimmed it down from 3 PCB boards to just one board, and went with even smaller IN-2 nixie tubes. The new board has only four SMT parts (the backlight LEDs), which cuts down on our assembly time, meaning a lower end price.
Of course, just making a cut-down version of our original Nixie clock would be boring, so we decided to rewamp the circuit design. We've replaced the original КМ155ИД1 (K155ID1) Nixie driver with a more modern HV5812 driver. This driver has 20 outputs and lets us drive the Nixie tubes at 1/2 duty cycle instead of 1/4 duty cycle. The end result of this is a cleaner and brighter display.
Here's a picture with the blue backlight on: (only single-color backlight this time)
We're very happy with the way the backlight enhances the look of the semi-transparent dark blue acrylic case. The electronics inside are visible, without the effect being too "noisy."
For the next revision of the case, we will remove the "akafugu.jp" lettering as it ended up being a bit overpowering… we'll keep the fish though!
We expect the clock to be available for sale on our site by the end of March.
The open source firmware for the open the VFD Modular Clock can be downloaded from github. It has recently undergone a series of improvements with lots of new exciting features (more about that in a later blog post).
Getting an ISP Programmer
To program the VFD Modular Clock , an ISP programmer is required. We do not sell one, so here are a few options:
Arduino ISP Programmer
Most Arduino boards can be used as an ISP programmer by using the ArduinoISP sketch. If you already own an Arduino board, this is probably the easiest way, but it requires some wiring.
AVR ISP mkii
This is Atmels own programmer. It is relatively affordable and can be purchased from Mouser, Digikey or similar shops.
USBTinyISP
This is Adafruit's low-cost programmer. It is quite a bit slower than the AVR ISP mkii, but works just as well as a programmer for the ATMega328P chip on the VFD Modular Clock .
Setting up the Compiler Toolchain
The VFD Modular Clock firmware is written for avr-gcc. The installation procedure differs depending on your OS.
See our installation instructions for details
Getting the Source Code
The latest source code is on github.
Click the ZIP button to download.
Setting up user.mk
The user.mk file is used by the makefile in the VFD Modular Clock firmware to read information about your programmer.
If you've set up an Arduino as an ISP programmer, use this:
If you have a AVR ISP mkii, use this:
If you have an USBTinyISP, use this:
Programming
Everything's ready. Connect the ISP cable of your programmer to the ISP header on the VFD Modular Clock . If your programmer doesn't power the device (which is the case for the AVR ISP mkii), you'll need to connect the 9V power adapter too.
Now open a command prompt and change to the directory where you put the source code:
This will compile the source code and flash it to the microcontroller. Once it is finished, the device will reboot and you will have the latest firmware!
Other uses
The method described here also works for many of our other products, such as XMAS and LED Candle .
The TWI/I2C slave firmware in TWIDisplay , TWILCD and TWIKeyboard can also be updated with an ISP programmer.
Note that The Akafugu Nixie Clock and Simpleclock both ship with an Arduino bootloader and are programmed in the Arduino environment using an FTDI adapter instead of an ISP programmer.
関連製品:

東京ハッカースペースは、様々な科目を教えるクラスを運営しています。
週末は蛍光表示管モジュラー時計のクラスがありました。これは成功裏に終わり、みな蛍光表示管モジュラー時計 を問題なく作り終えることができました。下の写真にて、このクラスで作られた全ての時計を見ることができます。
Johnさんのブログtronixstuffには、Arduinoチュートリアルとレビューが書かれています。 Johnさんは、赤フグの TWILCD ボードを使って面白い オーディオスペクトラムアナライザを製作したみたいです!
赤フグニキシー時計の二キシー管(ディスプレー)にゴーストが発生する問題について、お客様からご報告を受けました。
ディスプレーのゴーストとは、ディスプレーに本来の時間を示す数字と、それとは別の数字もうっすら一緒に表示されてしまうことです。
お客様のニキシー時計に同じ問題が発生していれば、ファームウェアのアップデートが必要になります。
もしゴーストが発生しなければファームウェアのアップデートは必要ありません。
ファームウェアのダウンロード:
The Akafugu Nixie Clock version firmware version 1.1 (推奨)
The Akafugu Nixie Clock version firmware version 1.0

このゴーストの問題は、2012年12月中旬以降に発送した時計の一部で見つかっています。
ニキシー管の陽極を動かすために使用しているフォトカプラ(TLP627-1)はメーカー2社から仕入れたもので、仕様が若干異なります。
2社のメーカーのフォトカプラは見た目も少し異なります。

左のタイプ (印刷が薄い) のものには、ゴーストは発生していません。右のタイプ (印刷が濃い) のものにゴーストの問題が見られますが、すべての時計でおこるわけではありません。
両方のタイプに対応するファームウェアに改良しましたので、フォトカプラを変更する必要はありません。
お買い上げ頂いたニキシー時計にゴーストの問題が生じているお客様で、FTDIアダプター をお持ちでない、或はうまくアップデートできない方は赤フグまでメールでご連絡ください。お手伝いさせていただきます。
赤フグニキシー時計 と シンプルクロック 両方の時計にファームウェアのアップデートが可能です。 以下のアップグレードのインストラクションに従って下さい !
アップデートの内容:
赤フグニキシー時計:
ディスプレイが明るくなりました。
ゴーストの不具合を直しました。
シンプルクロック:
Step 1 - FTDI アダプター
赤フグニキシー時計やシンプルクロックをアップデートするにはFTDIアダプターが必要になります。 二つの時計には同じアダプターが使えますので、一つあれば大丈夫です。
アダプターには色々種類があります。 下記のような6ピンメスヘッダーのアダプターであれば使えます。 ピン配置;DTR - RXI - TXO - VCC - CTS/GND - GND
Step 2 - FTDIドライバー
FTDIドライバーが必要です。FTDIのウェブページ からダウンロードしてください。
USBミニBケーブルをご用意ください。FTDIアダプターにミニBケーブルを 接続し、 その後、ケーブルの反対側をコンピューターに接続してください。
初めてボードを接続する場合、コンピューターがシリアルポートを割り当てます。
OS Xでは、シリアルポートは通常次のように見えます。 /dev/tty.usbserial-A700ft5E
Linuxでは、シリアルポートは通常次のように見えます。 /dev/tty.usbserial-A700ft5E
Windowsでは、シリアルポートは通常次のように見えます。 COM5
Step 3 - Setting up Arduino
まだコンピューターにArduinoをインストールされていない場合は、 ガイドに従って下さい。
Arduino IDE バージョン 1.0.1もしくはそれ以降のバージョンを既にインストールされている場合は、 まずライブラリパッケージをダウンロードしインストールして下さい:
(ライブラリは、ドキュメントフォルダのArduino/librariesフォルダ内にインストールするのが簡単です)
hardware/arduinoの中にあるboards.txt ファイルをテキストエディターで開きます。 一番下までスクロールして、ファイルの最後に以下の内容を追加します:
OS X のユーザーはArduinoアプリケーションを右クリックし、「パッケージコンテンツを見る」 を選択して下さい。 boards.txtファイルはContents/Resources/Java/hardware/arduinoの中にあります。
Step 4 - ファームウェアを入手する
ファームウェアは、githubから ダウンロードするのが入手する最も簡単な方法です。
ZIPがラベルされているボタンをクリックしファイルを入手すると、akafugu_nixie_clock-master.zip というファイルがコンピューターにダウンロードされます。
ファイルを解凍する際、ファームウェアはakafugu_nixie_clock-masterというフォルダで終了します。 Arduino内でファイルを開く前に、フォルダ名をakafugu_nixie_clockに変更して下さい。
PS: git及びgithubについてお知りになりたい場合は、ここをご覧下さい。
Step 5 - アップロードを完了する
まず、Arduino内のakafugu_nixie_clock.inoファイルを開きます。
メニュー内で、Tools -> Boardを選び、"Akafugu Nixie Clock"を選択します。 また、メニュー内で、Tools -> Serial Portを選択し、FTDI アダプターのシリアルポートを選択します。
ここで、FTDIアダプターがニキシ―時計の6ピンコネクタに接続されていることを確認します。 プログラミングヘッダにアクセスする為に、時計のケースを開いている必要があります。
アップロードを押し、時計が再起動した後、ファームウェアがマイクロコントローラにアップロードされます。
PS: 9Vパワーアダプタの取りつけなしで、FTDIアダプターのみを使用して時計をプログラム することが可能です。このように5Vのみから電源が供給されている場合、時計は動きますが、 9Vパワーアダプタを取りつけなければニキシ―は光りません。
シンプルクロック
上記のインストラクションは、シンプルクロックの再プログラミングにも有効です。
シンプルクロックのファームウェアはgithubでごダウンロードただけます。
既にArduinoをインストールされている場合、上記の説明の通りboards.txtを編集してください。ただし、以下のテキストを使用して下さい。
在庫あります: 赤フグニキシー時計
赤フグニキシー時計(The Akafugu Nixie Clock)は、オールドファッション風のネオンニキシー管を使った、 スタイリッシュな組立時計キットです。
在庫あります: 蛍光表示管モジュラー時計IV-4バーション
蛍光表示管モジュラー時計(VFD Modular Clock)は旧式の蛍光表示管を元にした時計です。
昨年は、東京ハッカースペースで製作体験レッスンを二度開催しました。上の写真はその時に製作したニキシー時計の写真です。
赤フグでは、二つの体験レッスンを近く開催予定にしています。二種類の時計ニキシーとVFDの製作体験ができます。 それぞれ日程が異なりますので、詳細は下記にてご確認をお願いします。 沢山の方のご参加をお待ちしております!
クラスは日本語と英語の両方で分かりやすく説明しますので、 誰でも安心して参加可能です!
2013年1月26日:ニキシー時計クラス
このクラスでは赤フグニキシー時計を製作。 材料費は参加費に含まれています。
サインアップはこちら。
2013年2月2日:蛍光表示管モジュラー時計クラス
このクラスでは蛍光表示管モジュラー時計を製作。 材料費は参加費に含まれています。
サインアップはこちら。
赤フグニキシー時計は、一時的に品切れとなっております。入手ご希望の場合は、約2週間で入荷いたしますのでご心配なさらないでください。
ご希望であれば、再入荷通知のメールにサインアップすることができます。再入荷通知以外、他の情報やスパムを送信することはございません。
再入荷通知にサインアップして、オンラインで入手可能になった後時計を注文していただいた最初の10人の方に、時計を再プログラムするのに使用できる FTDIアダプター を無料で提供しております。
この特別提供の必要条件は、以下のとおりです。
再入荷通知にサインアップする
再入荷通知を受信した後、当店から30日以内に時計を注文する
この特別提供は、再入荷通知を受信した後購入を完了された最初の10人の方にのみ有効となっています。
追伸:当社の販売代理店であるTokyo Devicesより時計を直接注文していただくことも可能です。この際には、日本での国内配送に限定させていただきます。
Here are pictures of the pinouts for the IV-4/IV-17 and IV-6 shields for the VFD Modular Clock. The pinout for the tube sockets as seen from the top and bottom is shown as well as where the segments and grids are connected on the right-hand connector.
Use this diagram to diagnose errors (for instance: if a segment is not lighting up, you can locate where to check for continuity) or as a basis for mods.
関連製品:

Our friend John from Australia has created an awesome enclosure for his IV-17 VFD Modular Clock. The case is built around parts taken from an old decomissioned anaesthetic machine on top of a cigar box base in steampunk style.
Have a look at the video of the "Dräger-Punk Sorba-Clock:"
The clock itself runs the latest firmware, which John has helped test extensively. (Available on github)
The four letter word functionality is running using a small EEPROM addon board with the word database on it. You can also see the new date scrolling functionality in the video. Time is updated automatically via GPS.
On the hardware side there are a bunch of mods and enhancements. There is a custom-built RGB light-bar to add mood lightning. Instead of the normal tactile switches on the backside of the clock, the cigar box base houses nice big brass buttons.
Instead of connecting the GPS module directly to the UART, John has connected his GPS module to a low-cost 433MHz transmitter module set up so that it simply transmits all the NMEA sentences from the GPS module. Then there are receivers connected to the VFD Modular Clock as well as other clocks in his collection (that also support GPS).
This way, only one GPS module is required. The 433MHz transmission is noisy and the receivers will pick up a great deal of garbage data. This is filtered out by the error correction in the firmware, so the clock still syncs just fine.
Here is a picture of the backside:
And the inside of the cigar box where all the extra wiring is neatly arranged.
関連製品:

赤フグはこの場をお借りしまして、皆様の幸せな新年を願い、そしてこの素晴らしい一年間の感謝をお伝えしたいと思います! 私たちの新商品をご愛用していただき誠にありがとうございます。今後も皆様にとって素敵な新商品をご提供し続けるために、より一層邁進していくことを約束いたします!
数日ほど休業日とさせていただきますので、本日より販売量を制限して営業いたします。
下記の日にちは、誠に勝手ながら営業を完全に中止させていただきます。
12月24日 (月曜日) 1月1日 (火曜日) ~1月3日 (木曜日)
上記の日にちまでは、販売量を制限して営業いたします。また一部の商品は12月30日まで出荷されない場合がございます。
1月4日より、通常スケジュールにて営業を再開いたします。
ご不都合をお掛けしております代わりといたしまして、本日から1月3日までの期間中、当店の全商品を5%引きでご提供させていただきます。 この割引を受けるためにレジにて、HOLIDAYS2012のクーポンコードをご入力下さい。
We've updated the firmware on Simpleclock, our easy-to-solder 4-digit LCD clock kit!
The new firmware includes the following new features:
Date setting
Date automatically scrolls across the screen once every minute
Auto DST (rules are hardcoded, so this feature is turned off by default)
New kits are shipping with the new firmware already installed. To update your own firmware, you will need an FTDI adapter.
The new features can be controlled from the menu:
BRIGHTNESS - Sets the display brightness
24H - Toggles between 24h and 12h mode
YEAR - Sets the year
MNTH - Sets the month
DAY - Sets the day
ADTE - Auto date: Turn on to have date scroll across the screen once a minute
REGN - Sets date format to match your region: YMD, DMY or MDY.
DST - Turns on/off automatic DST
Big thanks to William Phelps who made the Date setting and Auto DST!
William is also working on a huge feature update for VFD Modular Clock that includes all the features added to Simpleclock as well as lots of new stuff:
GPS support! Just add a GPS receiver to the TX/RX pins of your VFD Modular Clock and time and date will be set automatically * Auto dimming: Dims the display at night
Four Letter Word support: The FLW support we added a while back will be integrated and become part of the main firmware.
Improved menu system with submenus
If you're interested in trying out the new firmware, it can be found at Github in the date_and_gps branch
You'll need an ISP programmer to update VFD Modular Clock.
The Four Letter Word functionality will still require an EEPROM. We will offer a small add-on board with a pre-programmed EEPROM for sale. Feel free to mail us if you are interested in early access to the EEPROM board!
関連製品:

この度蛍光表示管モジュラー時計に含まれる抵抗を下記の通り変更いたしました。 2.4kΩ抵抗から1.6kΩ抵抗。
この抵抗は時計から発生する電圧を上げるために使用されます。 2.4kΩ抵抗ですと26Vですが、1.6kΩ抵抗ですと約38Vまで上がります。
電圧が上がる事によって、画面の明るさの限界が若干増します。このことについてはお客様からリクエストを頂いておりました。
2.4kΩ抵抗のキットをお持ちでしたら、お客様がさらに明るさをご希望でない限り、買い替える必要はございません。 弊社では1.6kΩ以下の抵抗のご使用は推奨しておりません。これは、管の寿命と動作の不安定の原因となるからです。
Maker Faire Tokyo 2012でお会いした全ての人に感謝いたします。多くの興味をそそられる会合と見るべきものでいっぱいの、信じられないほど素晴らしい2日間でした。
TWILCD RGB edition
Pin 1x18
Pin
Function
Comment
1
GND
VSS
2
VCC
VDD
3
V0
Contrast
4
RS
5
RW
6
E
7
DB0
8
DB1
9
DB2
10
DB3
11
DB4
12
DB5
13
DB6
14
DB7
15
LED -
GND to backlight
16
+ RED
17
+ GREEN
18
+ BLUE
We have recently got a couple of questions about using TWILCD 40x2/40x4/RGB edition together with Adafruits 16x2 and 20x4 RGB character displays.
The RGB displays from Adafruit are unfortunately not directly compatible. We constructed the TWILCD board for Newhaven RGB displays which are configured as common cathode RGB light. Adafruit's RGB displays are common anode.
Adafruit RGB displays expect:
pin 15: LED +5V
pin 16: Red GND
pin 17: Green GND
pin 18: Blue GND
It is possible to make it work with a couple of hacks:
Do not connect pin 15 to the board (it is marked with GND on the board.) Instead you need to pull a wire to connect pin 15 on the display to VCC.
In the Arduino library the color value will be inverted, so use this instead:
We have added all pinouts for our two TWILCD versions (standard and 40x2/40x4/RGB) to the TWILCD Resources page.
関連製品:

We found this interesting blog from Fork Robotics about subject "Using an Arduino to program ATTiny chips". Similar methods can be used to program the microcontroller in XMAS and LED Candle . (Please note that both these products comes with a preprogrammed microcontroller.)
I've been in this situation many times: I just finished an Arduino project, I'm happy with it and would love to save it, but I only have 2 Arduino boards. Do I sacrifice one to keep this project intact or pull everything off the breadboard and move on? For all the Arduino enthusiasts that can relate to this, thankfully that's not the only 2 choices.
This weekend it's time for Maker Faire Tokyo 2012. It is being held at Miraikan in Odaiba, and we're very excited to be there!
We're in the middle of preparations right now: We will offer all our products for sale at the Maker Faire as well as show off some demos of products in development.
We hope to meet old and new customers alike! Please drop by and say Hi!
We're neighbors with Tokyo Hacker Space (where we've held a few soldering classes), and we will share a small soldering area with them. Customers will be able to assemble kits they buy from us or Tokyo Hacker Space directly (Space will be limited so it will be on a first-come-first-served basis. We may also impose a limit on how long you'll be able to use the soldering station.
Information about pricing and access can be found in this previous blog entry
Part1: Akafugu at Maker Faire Tokyo 2012
Part2: Preparing for Maker Faire
2012年11月23日から2012年11月26日ショップでブラックフライデー/サイバーマンデーセールを開始!
クーポンコードのBFCM2012を精算時に入力すると、購入金額から10%オフに。
コードは2012年11月23日から2012年11月26日まで有効です。
Here's a little neat trick. Have you ever found yourself with a new serial device that you want to connect to a Arduino, but you want to try it out and talk to it directly first? On Arduino UNO it was pretty easy, just connect the device to pin 0 and 1 (Serial) and hold the reset down, the computer would then talk directly to the device. As the uC would be resetting it would not interupt the communication.
On the new Akafuino L the USB port and the serial port is not connected directly, in fact pin 0 and 1 are connected to a second serial port (Serial1), so it is even easier to do it. We tried google for some code to pass through communication from USB to the second serial port, but found nothing, so we decided to write a small tutorial.
All you need is to connect VCC, GND and cross rx and tx between the device and your Akafuino1 L. Then upload the following program and all characters sent to your device will be passed through to the Akafuino L.
This works on official Arduino Leonardo as well.
関連製品:

Arduino just released a new version 1.0.2 of Arduino with a lot of fixes for Arduino Leonardo. We recommend all our customers to upgrade to this version.
More info in the Release Notes.
We have updated our packages with all Akafugu Libraries already included.
Downloads
Arduino IDE with Akafugu Libraries included:
Today we have released the design files for the Nixie Clock enclosure. The case that is included in the kit is in 3mm acrylic.
We include both PDF and Inkscape SVG.
Available from the resource section here.
関連製品:

今日からショップでハロウィンセールを開始!
クーポンコードのTRICKORTREATを精算時に入力すると、購入金額から5%オフに。
コードは11月4日まで有効です。
PJRC, creator of the Teensy line of Arduino compatible boards with native USB support (the forebear to the Arduino Leonardo) recently ran a Kickstarter project. The project was the new Teensy 3.0, with an ARM Cortex-M4 processor (32 bit, 96 Mhz, 128 kByte flash etc etc). It was successful, and a special version of the Arduino-1.0.1 IDE was released to support the board.
Akafugu pledged and received a few boards recently. Naturally, one of the first things we tried was to see if our TWI/I2C boards would work properly. Turns out there was little need for worry, all our TWI/I2C products ( TWIDisplay , TWILCD , TWIKeyboard and RTC Breakout ) are compatible with Teensy 3.0 without any library or source code changes. (our libraries are written using the Wire library, which has been ported to the ARM processor of the Teensy 3.0 by PJRC)
The Teensy 3.0 is a 3.3V board, meaning that SDA and SCL are at this level. Our boards work fine with this, and you can still connect VCC to the 5V port to get better display brighness on TWIDisplay and TWILCD. The RTC board should be run from 3.3V VCC.
関連製品:

日本のお客様に、より便利で簡単にショップをご利用頂くために日本語版ショップも始めました。
東京ハッカースペースは、様々な科目を教えるクラスを運営しています。
昨日はニキシー時計のクラスがありました。これは成功裏に終わり、みなニキシー時計 を問題なく作り終えることができました。上の写真にて、このクラスで作られた全ての時計を見ることができます。 あなたもニキシー時計を作りたければ、下ののところにある、次回のクラスに関する情報をご覧ください。 シンプルクロッククラスの情報もご覧ください。
クラスは日本語と英語の両方で分かりやすく説明しますので、 誰でも安心して参加可能です!
2012年11月4日:ニキシー時計クラス
このクラスでは赤フグニキシー時計を製作。 材料費は参加費に含まれています。
サインアップはこちら。
2012年10月27日:シンプルクロッククラス
このクラスではシンプルクロックを製作。 シンプルクロックは4桁7セグLED表示の時計です。 組立てが簡単ですごく素敵な時計に仕上がりますよ。 材料費は参加費に含まれています。
サインアップはこちら。
Akafugu is joining the upcoming Maker Faire Tokyo 2012. We are very excited to meet our customers and supporters at our table.
赤フグはMaker Faire 東京2012に参加します!
Maker Faire is an event created by Make magazine to "celebrate arts, crafts, engineering, science projects and the Do-It-Yourself (DIY) mindset".
http://jp.makezine.com/blog/2012/09/mft2012_site_open.html
Time/Date: 2012-12-01 (Sat) 12:00 - 17:00, 2012-12-02 (Sun) 10:00 - 17:00
Admission:

Pre-order: Adult: 1,000 JPY, Under 18: 500 JPY
At the door: Adult: 1,500 JPY, Under 18: 700 JPY
Pre-order online here: Eplus (only in Japanese)
This year's Tokyo Maker Faire promises to be the biggest one in Japan yet. The venue has been moved to The National Museum of Emerging Science and Innovation (Miraikan) which is located in Odaiba in Tokyo.
Part1: Akafugu at Maker Faire Tokyo 2012
Part2: Preparing for Maker Faire
Simpleclock
[PDF]

Available at resource page for Simpleclock.
VFD Modular Clock
[PDF]

Available at resource page for VFD Modular Clock.
関連製品:

最近、当社のお客様であり 蛍光表示管モジュラー時計 に関し問題をお抱えのWilliam Phelps様より Eメールを頂きました。時刻を設定して時計を作動させることができなかったとのことです。確認してみると、 ご友人にも同じ問題をお持ちの方が何人かいらっしゃったようです。
William様は、当社が問題の解明をするようお問い合わせをされただけではなく、自身により問題のデバッグも行われました。 問題の原因は、5Vレギュレータの出力とボードの残りの部分の間にある余分な1N4001ダイオードです。これはノイズ軽減の強化 および5V電源供給と時計の残りの部分の分離のために追加されたものです (5Vおよび高電圧装置は共にスイッチモードであり、多くのノイズが発生します)。
この余分なダイオードが5Vレギュレータの5V出力より0.8V落としており、ボード全体が約4.2Vで動作していることになります。 これが一部のDS1307リアルタイム時計チップに問題を起こしています。これらの定格の低下は4.5Vまでとなっていますが、 スペックを超えた範囲で動作させていることになります。このようになると動作の保証はなく、 これにより一部の時計に不具合を引き起こしていることが分かりました。
この問題に対する最も簡単な解決方法は、第2の1N4001ダイオードを完全に取り除き、ワイヤーで代替することです。
時計に問題をお抱えの場合は、以下の補修をお試しください。
右側の1N4001ダイオードを切り落とすか、はんだを取り除いてください。
ダイオードのあった場所2ヶ所の間に小さなワイヤーを差し込みます。代わりにレジスタやダイオードの破棄した足をそこにはんだ付けすることも可能です。
これで時計は正常に動作するはずです。
追記:時計が正常に動作している場合でも、この補修の実行を推奨します。
我々に問題をご指摘くださっただけでなく、自ら多くのお時間や努力を費やし問題のデバッグおよびトラブルシューティングを実行され、可能な限り簡単な補修方法の発見に至る手助けをしてくださったWilliam Phelps様に心より感謝いたします。
現在、William様よりV 蛍光表示管モジュラー時計 ファームウェアに機能の追加をするためご尽力をいただいております。 William様による機能強化は既に一部GitHubよりダウンロード可能で、さらに魅力的な新機能も開発中です。
追記: 蛍光表示管モジュラー時計 の組立説明書も1N4001ダイオードの手順を スキップするよう更新されています。新しいキットにはダイオードが1つのみ付属します。
We have added the schematic for our Akafuino X microcontroller board.
Available in the store
関連製品:

今月10月7日(日曜日)と10月27日(土曜日)、東京ハッカースペースで2つのハンダ付けクラスを開催することに決定しました!
クラスは日本語と英語の両方で分かりやすく説明しますので、 誰でも安心して参加可能です!
2012年10月7日:ニキシー時計クラス
このクラスでは赤フグニキシー時計を製作。 材料費は参加費に含まれています。
サインアップはこちら: http://tokyohackerspace.org/ja/event/2012-10-07-build-a-nixie-tube-clock
2012年10月27日:シンプルクロッククラス
このクラスではシンプルクロックを製作。 シンプルクロックは4桁7セグLED表示の時計です。 組立てが簡単ですごく素敵な時計に仕上がりますよ。 材料費は参加費に含まれています。
サインアップはこちら: http://tokyohackerspace.org/ja/event/2012-10-27-simpleclock-soldering-workshop
As part of our ongoing goal to make it as easy as possible for our customers to use our products, we've now started including QR codes on our invoice. The QR code links back to the product page, where we have info and assembly instructions.
For those who don't know, QR-code are widely used in Japan and are getting more and more momentum around the world. It is basically a 2d barcode that can encode text, contact information and links among other things.
We used the very handy Google Developer tool to get the image onto our invoices.
This code:
Results in the following picture:

We have now added the schematics to our nixie clock here.
And the firmware is now uploaded to Github.
Available in our store: The Akafugu Nixie Clock!
関連製品:

Now available in our store: The Akafugu Nixie Clock!
The Akafugu Nixie Clock is a fun to build stylish clock kit that uses old-fashioned neon Nixie tubes. It comes as a kit complete with three PCBs, all neccesary components, four IN-12 Nixie tubes and smoke black acrylic enclosure.
| | |
| --- | --- |
| Comes with adjustable RGB backlighting! | |
| With beautifully styled PCB decorations on front and back plates | |
| Front and back plates are part of the enclosure for a unique "modern meets retro" look. The side plates are laser cut acrylic in semi-transparent smoke black, allowing you to get a glimpse of the clocks inner workings. | |
| Unique and simple control scheme: Everything is set using a single rotary encoder with button (and alarm on/off switch on right side). Turn the rotary encoder to set RGB backlighting mode. Hold the button down to cycle between setting alarm, time and custom settings. | |
| Comes in a kit of three separate PCBs: Easy to solder Trough-the-hole (PTH) parts only. The small SMT parts come pre-assembled. | |
| Russian top-view IN-12 Nixie tubes. | |
| Powered from a single 9V (or 12V) AC adapter. The 180V high voltage required to run the nixie tubes is generated from the 9V DC supply. | |
| Uses an Atmega328P microcontroller with Arduino bootloader and firmware preloaded. The firmware is written in Arduino, and is fully open source. Anyone can reprogram their Nixie clock using a simple FTDI Adapter and a USB mini-b cable. (Cable not included. FTDI adapter is available as an extra option in the shop. Other brands of FTDI adapter are also usable) | |
関連製品:

Arduino prototyping in style: Introducing the Project Box for Arduino, a a tailor-made box enclosure for Arduino boards!
The enclosure is fully compatible with the new R3 Arduino layout (as used in the new R3 UNO boards, Arduino Leonardo, and our own Akafuino L board. This layout has extra connectors pins as well as a new placement for the reset button). The enclosure also supports all other pre-R3 original Arduino boards.
The enclosure uses slim 2mm thick acrylic giving it a compact and slender appearance (in contrast to the more common 3mm thickness). Careful attention was paid during the engineering process to make the case fit neatly together by utilizing four nylon screws and nuts.
The case is available in four different color schemes: There is transparent with colored edge cuts and semi-transparent smoke gray. The colored edge acrylic is transparent, but all the cut edges have a color cast to them, they are available in blue-, green-, ultraviolet-, and pink edge colors.
The removable top plate of the enclosure features another engineering innovation: Carefully cut slots allow you to remove the top plate by gently squeezing the side of the plate and tilting it up. A miniature breadboard (not included) can be fastened on top of the top plate to allow easy and compact prototyping without a shield.
Project Box for Arduino is designed and manufactured by Emerge+, a small company located in Chiba City, Japan. (located in Chiba prefecture, just east of Tokyo). Emerge+ specializes in laser cutting, and we are proud to offer their products for the first time internationally!
This has absolutely nothing to do with electronics, sorry! :)
Living in Japan is special, summertime is filled with festivals, people wearing Yukatas (a casual summer kimono) and of course limited edition products.
One of the most common points of experimentation for limited edition products is soft drinks. Pepsi always have a limited edition of a soda at summer time each year (the most famous of which include such classics as Ice Cucumber (2007) and Salty Watermelon Pepsi (2012). Needless to say, Ice cucumber didn't actually contain any cucumbers, only essence)
This year Suntory had a brilliant idea, people like soda and they like coffee. Let's fuse them together! And the result is Suntory Espressoda "A twist of bold coffee and refreshing soda".
The result? Although it is not disgusting, it is not really great either. It tastes, not surprisingly like combining a bland ice coffee with a no-name soda.
We give it two sparkling coffee cups out of five.
More info can be found on Suntory's homepage (in Japanese only)
We are busy getting these ready… Power boards for our upcoming Nixie clock. These generate 180VDC, so be careful :)
The perfect companion for your VFD Modular Clock: A custom made case in cool smoke gray semi transparent acrylic.
A simple acrylic stand made especially for the TWIDisplay in stylish semi-transparent black acrylic.
It has four mounting holes for the TWIDisplay PCB as well as two holes on the bottom that can be used for mounting or to attach legs to.
Four screws are included to mount the display, as well as two stand-offs that can be mounted on one side to prop the display up on any flat surface.
John Loadsman (grumpygasbag) writes:
Hi there,
Thought you might be interested to see this.
Bit the bullet this morning and soldered a pin header to the TWI expansion pads on the IV-17 shield of the Modular Clock. I'd already experimented with the Arduino implementation of the FLW with success.
Stuck an eeprom (24LC512) flashed with the Four Letter Word dictionary in breadboard, wired it to the clock after flashing the clock with the FLW-work-2 firmware.
Instant success! ...
It even just displayed "John"!
It also just displayed an impressive series of expletives. :-)
I LIKE it!
関連製品:

The IV-17 tubes we ship with our VFD Modular Clock are getting increasingly rare and expensive.
In order to allow us to continue supplying clocks regularily, we've started adding IV-4 tubes to our stock. IV-4 tubes are fully pin compatible with IV-17 tubes and look identical except for the marking on the back.
From now on, we will start shipping the VFD Modular Clock with either IV-17 or IV-4 tubes depending on what we have in stock.
関連製品:

There is a wide range of OLED character displays available using the HD44780 controller. We had one from Newhaven that worked just fine with our TWILCD TWI/I2C LCD backpack, but we were recently made aware of the fact that most of Newhaven's other OLED displays wouldn't work with TWILCD (nor with the standard version of the Arduino LiquidCrystal library for that matter).
Turns out we needed to make some changes to our TWILiquidCrystal display to make things run smoothly with most OLED displays. So we are happy to announce that our TWI/I2C LCD backpack TWILCD is now fully functioning with various OLED Character Displays.
We've updated our TWILiquidCrystal Arduino Library, and it now fully supports a wide range of OLED Character Displays. If you have a problem connecting an OLED to your TWILCD, please make sure to download the latest version from here.
These displays have been tested:
NHD-0216SZW-BY5
NHD-0420DZW-AG5
NHD-0216KZW-AB5
A noname (OEM) OLED with 2x7 pin header, compatible with HD44780 layout.
Here is a size comparison (the NHD-0216SZW-BY5 is HUGE!)
A special thanks goes to TOMEGA3 for debugging help on this issue.
関連製品:

One of our customers told us about this small marvellous library: MENWIZ is an easy to use Character LCD Menu Generator written for Arduino. It was written to be used together with the New LiquidCrystal library, but with some small changes it can also be used together with our own TWI/I2C LCD backpack TWILCD . The picture above shows the TWILCD running a Newhaven OLED display.
We copied the MENWIZ library and the button library (included in the REQUIRED_LIBRARIES.zip in MENWIZ) to Arduino's library folder. Below is a diff of the things we had to change in the library to get the quick_tour example running.
The MENWIZ runs equally well on 2x16 as it does on 4x20 displays. It should also work with our TWILCD 4x40 version board and display.
We are looking forward to hear what our customers are doing with MENWIZ and TWILCD.
関連製品:

As we told you in an earlier blog post we are currently trying to make a Pick & Place machine out of a Shapeoko CNC mill.
To make a P&P machine usable, there is one very important thing: It needs to have a home to go to. A home on a P&P machine or any computer controlled machine is a known position to start from. In a CNC machine this is usually a corner where all axes are at their minimum or at their maximum, and on our machine this is at the front left corner with the head in its highest position. To the machine this is known as 0,0,0. All X and Y movement are running on the positive side of these axes and the Z axis is moving on the negative side.
The shapeoko doesn't come with limit switches (the base model is only around $300), so we decided to make some ourself. Milling is a quite new thing for the Open Source Hardware community, 3d printers have come a lot further. Over at the Makerbot site they publish all their hardware designs. They have a mechanical endstop that would work well for our Shapeoko. The only problem was the form factor of their board as it is specially tailored for the Makerbot hardware.
On the Shapeoko the perfect place would be to mount the three (3) switches on the endplate and motor plates. This way we can use the other motor plate to activate the switch. For the Z-axis the actual switch is extended out from the PCB with a piece of wire and mounted to the backside of a Makerslide
Here are some pictures on how it can be mounted. Important is also to filter the signal so we don't get false positives, this is done with a low pass filter consisting of a resistor and a capacitor.
All files are available on our Github site.
We haven't put this design in our shop, but if you are interested in buying a 3-pack of these with all the SMD parts already pre-mounted, please don't hesitate to send us an email.
Part1: Making a Pick & place machine, part 1
Part2: Making a Pick & place machine, part 2
Tokyo HackerSpace recently moved to a new location, and yesterday we attended their moving in party!
The new location is in the middle of Shibuya, one of the busiest shopping and leisure areas of the city, known especially as a meeting place for young people (along with the neighboring Harajuku). The new space is located just a few minutes walk from Shibuya station, right across from the Apple Store.
The attendance was tremendous, probably more people than we've ever seen at any of the weekly open house meetings! The new location is smaller than the old one, but in the short time they've been there they've managed to style it to feel just like Tokyo HackerSpace should: A friendly place full of hacker gadgets where likeminded people meet.
While there, we took the liberty of showing off our latest clock creation: The Akafugu Nixie Clock.
It is a clock kit that uses retro Nixie tubes. The particular type shown on this picture are IN-12 tubes. The PCBs are currently in production and we plan to start offering the kit (complete with all components and the acrylic enclosure) on our shop as soon as we have all the parts ready (within one to two months). The firmware will be Arduino-based and can be flashed from any computer with the Arduino IDE installed using an FTDI adapter.
We will hold a couple of soldering workshops at the Tokyo HackerSpace. The first will be for Simpleclock , our 4-digit LCD clock kit, perfect for beginners to soldering. After that, we will hold a workshop for the Nixie clock.
We will announce timing for the workshop later on here!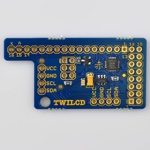 The TWILCD is an easy to use 16x2 LCD display that is controlled using the TWI (I2C compatible) protocol.
It is super-easy to control with any microcontroller that supports the TWI protocol. Libraries for Arduino and avr-gcc are available on GitHub.
The library is compatible with the Arduino LiquidCrystal library, so any sketch you have that uses a standard 16x2 LCD display (with 10 wires connected) can be converted to use the TWILCD with only 4 wires with only one single line of code change.
Only four wires are required for operation, one for power (runs on both 3.3V and 5V), one for ground, and two for the TWI protocol.
The Akafuino X is a microcontroller board based on the Atmel XMega32A4 microcontroller.
The Akafuino X can run Arduino sketches. It uses a special version of the Arduino IDE that adds support for the XMega line of processors. See the XMegaduino project for more details.
The TWIDisplay 8-digit LCD is an easy to use 8-digit 14-segment transflective LCD display. It can display the full alphabet in upper and lower case.
It is controlled using only four wires: Two for power and ground (it can run from either 5V or 3.3V) and two fro the TWI (I2C compatible) protocol. The firmware is fully open source and available on GitHub.
The TWIDisplay library has been updated to support both this new display and the original TWIDisplay 4-digit LCD display.
Available in our shop now!
See here for more information: TWIDisplay: 8-digit LCD .
Here is a follow up to our previous post.
We've added a reference drawing of the IV-6 shield, as well as measurements for the buttons and connectors on the back side (as requested!).
IV-6 Shield

Base board, connectors and buttons

Part1: New Reference Files for VFD Modular Clock
Part2: New Reference Files for VFD Modular Clock, part 2
関連製品:

The VFD Modular Clock remains one of our best-selling items.
In order to make it easier for people to design their own cases, we've made some reference drawings with measurements.
IV-17 Shield

Base board and shield, side view

Part1: New Reference Files for VFD Modular Clock
Part2: New Reference Files for VFD Modular Clock, part 2
関連製品:

Summer is here, and Akafugu will go on vacation!
Orders placed between July 20th and July 30th will not be processed until July 31st.
We are very sorry for the inconvenience and would like to offer our customers the option to use one of the following coupons, all valid until July 30th.
SUMMERBREAK - 5 % off any order
SUMMERSAVINGS - 10 % off any order of USD 100 or more
When doing assembly of surface mount parts, a big part of the time is spent placing components. To help automating the process, it is possible to use a pick and place machine. However, a pick and place machine is a large investment for small companies such as us here at Akafugu (starting at tens of thousands of dollars).
We've always been interested in stepper motors and mechanics, so when we first heard word of the Shapeoko we got very excited. It is a stepper motor driven milling machine that includes all the neccesary electronics for around $600. We started thinking about how we might go about transforming it into a pick and place machine. There is already some interest in this on the Shapeoko forum, and we found a nice open source software project called Openpnp that can be used for control by sending G-code to the controller.
To transform the Shapeoko into a P&P, you'll need the following:
A vacuum pump
A solenoid activated valve (to control the vacuum on/off)
A pick&place head
A stepper motor (or similar) for the P&P head for rotation
A top-down facing camera for checking components and to use for alignment
An upward facing camera for looking at picked up components to aid rotation
Limiting switches (endpoints) so you have a known starting state for your machine
The vacuum pump and solenoid can be bought cheaply on ebay. In fact, the pump we bought was a modified aquarium pump (modified to suck air). This pump is quite difficult to use as a manual tool since the head is not angled and the vacuum is controlled by a simple hole in the pipe. It is however good enough for our P&P.
The stepper motors for the Shapeoko run on 24V, so we opted for a 24V solenoid as well. In hindsight, we might as well have gone with a 5V one since the one we ended up with is quite big and has a lot more power than we need.
The solenoid is connected to D12 on the Arduino board and controlled by G-code M3/M5 (spindle on/off)
For a test, we decided to pick and place 0402 size resistors. These are tiny, only 1.0 x 0.5 mm! (See the top picture in this post for a reference: The top line of the ruler is inches and the bottom line centimeters. The three small resitors are 0402's while the bigger one is a 1206, 3.2 x 1.6 mm).
The test was successful: We were able to pick up and move 0402 resistors reliably. Of course this doesn't prove that the finished machine will be able to place 0402 components at 100 % reliability, but it should at least mean that bigger components such as 0603, 0805 and 1206 ought to work well.
Here is the video:
To be continued!
Part1: Making a Pick & place machine, part 1
Part2: Making a Pick & place machine, part 2
Our microcontroller reference sheets have been popular and we've received lots of great feedback.
We've added a new sheet that covers most of the chips that were missing in the Atmel ATmega and ATTiny families, specifically the ones that come in only SMD packages. The chips included are ATtiny 4/5/9/10/20/40/24a/44/84a/43u/87 and 167. We've also added the ATmega8/48/88/268/328 in TQFP package which has a different pinout than the DIP package covered in the original reference sheet.
As we used the reference sheets ourselves, we realized that there was one thing we always had to go back to the datasheets to double-check: Namely which PWM is connected to which counter (this information is required to set up timers and PWM when programming in low-level avr-gcc). We've added the timer information after the * sign that indicates a PWM pin.
Let us know what you think… is this information you've been missing, or is does it make the sheet too crowded? Depending on your feedback we'll decide whether or not to add this info to the other reference sheets.
Go here to download.
Please welcome the newest member of the Akafuino microprocessor board family: Akafuino L!
The Akafuino L is an Arduino clone based on the new Arduino Leonardo. It comes with the new Arduino R3 pin layout (with dedicated pins for I2C/TWI).
It is powered by an Atmel Atmega32U4 microcontroller and can run Arduino sketches. All you need is version 1.0.1 of the Arduino IDE, and you will be up and running in no time!
We also added an MMA8453Q 10-bit I2C Accelerometer and created a full Arduino library for it. The MMA8453Q is cool little accelerometer with lots of built-in features such as landscape/portrait detection and knock detection. Our Arduino library uses the Wire library, so it will work seamlessly along with other I2C/TWI devices.
To assist people who want to program the board using low-level gcc instead of the Arduino IDE we've also added a port mapping legend on the back of the board (so that you can easily see which ports the different Arduino pins map to).
There is also an extra TWI/I2C header that has the same pin order as all our TWI devices such as TWIDisplay and TWILCD . We also put in an SPI header for easy access to the hardware SPI pins (they are not broken out on the normal Arduino pins as with the Arduino UNO). These extra pins can also be used as normal digital I/O pins.
TOP VIEW:
BOTTOM VIEW:
関連製品:

Tronixstuff is a blog full of valuable information for Arduino developers. It contains a wealth of information about Arduino including tutorials and example projects.
John at Tronixstuff has been kind to review some of our products, and here is what he had to say:
First out this round was Simpleclock, our easy to assemble Arduino-based LCD clock:
Conclusion
The Simpleclock was easy to assemble and works very well. It would make a fun kit for those learning to solder, as they have something that once completed is a reminder of their success and useful in daily life. Apart from using USB for power instead of a DC socket it's a great kit and I would recommend it to anyone interested in clocks, enjoys kit assembly, or as a gift to a young one to introduce them to electronics and microcontrollers.
Next, he also reviewed both variants of TWILCD, our character display backpacks that support any HD44780-based LCD display.
Conclusion
The TWILCD backpacks are simple, easy to setup and easy to use. They make using LCD displays a lot easier and faster for rapid prototyping, experimenting or making final products easier to use and program. A well-deserved addition to every experimenter's toolkit. For more information, visit the akafugu product website. Full-size images available on flickr.
関連製品:

The difference between Arduino UNO and Leonardo
The biggest difference between Arduino UNO and the new Arduino Leonardo is in how USB communication is handled.
Arduino UNO and earlier devices have all used a discrete USB controller (an FTDI chip, or in the case of the UNO a dedicated ATMega8U2 chip programmed to act as a USB to serial converter). This means that the UART on the main processor is used for communication with the computer.
The new Arduino Leonardo uses an Atmel Atmega32U4 chip that comes with a USB core on-chip, and thus this and not the UART is used to communicate with the computer.
The practical result of this is that (when using the Leonardo) communicating with the computer (for example for debugging) does not use up your UART. The Serial object is used for communicating with the computer, and the hardware UART on the processor is bound to the Serial1 object (the hardware uart is connected to pins 0 and 1, as it is on the Arduino UNO).
In conclusion: The Arduino Leonardo has two serial ports, one connected to the USB port and one connected to pins 0 and 1.
Installing drivers for USB
For Linux and Mac, the device just works, for Windows you will need an INF file. (Included in version 1.0.1 of the Arduino IDE).
The USB protocol has 2 ways of recognizing a device: the VID/PID and the Class.
The Class tells the OS what kind of device it is, eg HID (for Mouse and Keyboard) or CDC (USB communications device class for serial ports) etc.
When you plug in a USB device on OS X and Linux, the USB class will be checked first. The Leonardo bootloader will identify itself as a serial port, and this is enough for OS X / Linux: A generic serial port driver will be loaded, and used to upload sketches.
Windows works a bit differently: It first looks at the VID/PID (Vendor ID/Product ID) of the device. The VID and PID are unique identifiers that are used to match the correct driver to the device.
Thus, to make Leonardo work on Windows you need to give it a INF file that tells Windows that this VID/PID combination is a serial port and should use the common USB virtual serial driver.
What about clones?
A Leonardo clone must supply its own unique VID/PID combination. This causes no problems on OS X and Linux since the Class will be the same as a genuine Leonardo, and the correct generic serial port driver will be loaded.
This won't work on Windows, since Windows looks at the VID/PID combination first (as explained in the previous section).
To complicate things, the Leonardo and any clone needs two VID/PID combinations: One is for the bootloader (which is a pure serial port) and one is for the actual Leonardo device, the one that runs your sketch after exiting the bootloader (which is a combined serial port and HID device).
The practical upshot of this is:
On OS X and Linux, a Leonardo clone will work out of the box, and can be identified as "Arduino Leonardo" in the Boards menu in the Arduino IDE. It is of course better practice to add an entry specifically for the clone device in boards.txt.
On Windows, a unique INF file for the clone device must be installed. Also, it will not work without editing the boards.txt file to add a unique section for the clone device.
関連製品:

The DS3231M breakout board is a compact breakout board for the new DS3231M high precision real time clock chip. With it, you can add timekeeping and alarm functionality to any Arduino (or other microcontroller that supports the I2C/TWI protocol).
The board comes with an onboard CR1220 backup battery (keeps time when main power is disconnected). All pins on the chip are broken out, allowing you to use extra features such as 1Hz and 32kHz square wave output, interrupt on alarm and reset.
The board is super-compact: It is only a bit bigger than the battery holder.
Features:
Breakout board for the DS3231M high precision real time clock
Controlled using the I2C/TWI protocol
All pins broken out for easy access to 1Hz and 32kHz square waves, alarm interrupt and reset.
Pull-up resistors for SDA/SCL as well as for the 32KHz oscillator and square wave ouptut/alarm interrupt output
Have a look at the product page for more information.
Simpleclock is an easy to assemble attractive 4-digit 7-segment LED display clock with temperature and alarm function. It is available in three display colors: Red, Blue and White.
It comes as a kit of through-the-hole parts and can be soldered by any person with basic soldering experience. An attractive acrylic stand is included.
The firmware is open source, and is written in the Arduino IDE allowing anyone to modify and program the clock easily (for programming, an FTDI adapter is required. If you don't have one, you can buy it from our shop along with simpleclock.)
It is perfect for beginners to soldering, as well as as a starting point for tinkering with the Arduino IDE: Just download the code from our GitHub repository, connect an FTDI cable and you are ready to begin hacking.
The clock comes with a simple to use firmware already flashed to the included ATMega328P microcontroller (comes with Arduino bootloader installed), so it can of course also be used as a standalone clock. Just plug in a USB mini-b connector to your computer or to a 5V regulated USB power supply.
Features:
Clock and alarm
Thermometer
Simple to use menu system (same interface as the VFD Modular Clock )
Open source firmware written in Arduino
Arduino bootloader and serial pin header for easy re-programming using an FTDI adapter
Comes with detachable TWIDisplay: Use either with the clock backpack or connect another Arduino or microcontroller with TWI/I2C support to re-use the display for your own project.
Head over to the product page for more information.
We have just released two new products in our store: The long-awaited IV-6 shield for the VFD Modular Clock and LED Candle, an artificial tea candle.
A couple of months back, we posted a sneak preview of a few new shields for our VFD Modular Clock that we were working on. We've been silent since then, but that ends today. You can now buy the VFD Modular Clock with IV-6 tubes in our store. IV-6 tubes are compact 7-segment display tubes, the shield comes with 6 of them, showing hours, minutes and seconds.
The clock's firmware will automatically detect this shield and adjust for it. The firmware on all shipped VFD Clocks support the shield already (although we do have a new firmware version that we will supply on future clocks that has a few extra functions).
You can buy the VFD Modular Clock with IV-6 shield or the IV-17 shield today. If you already have the IV-17 shield and would like to add another shield, contact us by email as this option is not yet available in the shop.
LED Candle is an artificial tea candle that comes in an easy to solder kit. It is suitable for beginners to soldering: There are only a few parts and clear easy to follow instructions on our website. It runs on a single CR2032 3V lithium battery.
We got the idea for the LED Candle on instructables, and decided to make the design fully open source. Both firmware and PCB CAD files are available on github.
関連製品:

With the new TWILCD 4x40-RGB backpack it is easy to control a 4x40 display. Here is a short video to show big numbers displayed using custom characters.
More info about this product is available here. It is available now in our store.
The code was inspired by this blog post.
関連製品:

We've just added a .net Micro library (written in C#) for our TWIDisplay to GitHub.
It comes in two files: TWIDisplay.cs, a class that implements all the functionality of the Arduino library in a C# class, as well as a test program that runs through all the modes of the display.
It has been tested with both Netduino and FEZ Panda v1.2 boards. It is confirmed working on both. On Netduino, pull-ups are required on SDA and SCL, whereas on FEZ Panda the internal pullups are sufficient (these are automatically enabled by the library).
In order to support more and newer processors in Xmegaduino (especially the new Xmega with integrated USB), we needed to update the avr-gcc package version from 4.3.3.
To do this, we compiled avr-gcc 4.5.1 together with Avr-libc 1.7.1 for Windows, Mac OS X and both 32 and 64-bit Linux. This is the same toolchain that is used in Atmel Studio 5.0, 5.1 and 6.0.
While testing this new toolchain compiling one of our own projects, we got this error:
The manual for delay in avr-libc gave us some interesting info:
Turning on the define __DELAY_BACKWARD_COMPATIBLE__ worked and it compiled as promised. But we use "-ffreestanding" for some of our code (such as the firmware for TWIDisplay) and the above states that in that case we shouldn't need to define __DELAY_BACKWARD_COMPATIBLE__? Some googling on the issue didn't result in much. Almost everyone with this error message were using _delay_ms() function with a variable and that is no longer allowed in avr-libc 1.7.1. Only a few had like us only _delay_ms() with a constant but no-one seemed to be able to help.
After some debugging and head scratching it became clear that without -ffreestanding the code compiled but why was the statement in the documentation not correct? After 1.7.1 was released there is also a 1.8.0 released. In 1.8.0 it does also check if –ffreestanding is defined and defaults to the same behaviour as __DELAY_BACKWARD_COMPATIBLE__, this was missing in 1.7.1, and thus you need to specify __DELAY_BACKWARD_COMPATIBLE__ if you want to use -ffreestanding. The documentation is written for 1.8.0, not for 1.7.1.
In other words __DELAY_BACKWARD_COMPATIBLE__ is required for 1.7.1, but not in 1.8.0.
関連製品:

We had originally plannet to hold off the beta 4 release of Xmegaduino until after Arduino had released the official 1.0.1. However, this week they decided to release another release candidate and wait with the golden release until end of the month.
In Xmegaduino we have some really exciting new things we wanted to put in the hands of our users, so we decided to release beta4 now instead of waiting.
Here are some of the new things in beta 4:
New avr-gcc 4.5.1, avr-libc 1.7.1 for all platforms (Windows, Mac OS X, Linux 32/64)
Linux now comes with bundled avr-gcc and avr-libc
Use correct SPI port on Akafuino X (pin 10-13)
Upload sketch to XPlain using PDI
And these things are fixed by the arduino team for 1.0.1-rc2:
Translated to 20 different languages, incl Japanese
Only recompile changed files (which means faster uploads)
The new avr-gcc is especially interesting as it enables for support of even more Xmega processors including the new Xmega series that has built in USB support. This version of avr-gcc is also the same version as used by Atmel in Atmel Studio 5.0, 5.1 and 6.0.
Get the new Xmegaduino beta4 here!
Please give the new beta a test-spin and report any problems in github's issue tracker!
関連製品:

We are happy to introduce a new product in our linup of TWI/I2C display controllers. The newcomer is a variant of our fancy TWILCD character LCD backpack that allows you to control displays that use the popular HD44780 chip using just two data lines.
The original version of TWILCD (which we will refer to as "TWILCD (Standard) from now on) supported a variety of the most common display connectors: 1x16, 1x14+2, 2x7 and 2x7+2. Although the board worked really well for these kinds of connectors, we eventually found out (thanks to excellent user feedback!) that there were some displays that we couldn't support.
The biggest missing feature in the original TWILCD, it turns out, was support for big 40x4 displays. Although these displays also utilize the HD44780 chip, they are quite a bit different. First of all, they use a 2x9 connector that has a completely different pinout from the 2x7 and 2x8 connectors. Also, since the HD44780 chip can only support a maximum of 40x2 characters, 40x4 displays actually have two HD44780 chips, making them very cumbersome to use with the standard LiquidCrystal library.
We've added seamless support for 40x4 in our new TWILCD board: Just set it up with lcd.begin(40, 4) and the TWILCD will take care of the rest (making sure to update both HD44780 chips correctly).
We also wanted to support Newhaven's 16x2 RGB displays so we included a 1x18 header and the necessary passive components to take full advantage of the RGB backlight. With the function lcd.setRGB(R, G, B) you can set the backlight color between 0 and 255 for every color. The TWILCD controller takes care of PWM the three colors seperatly.
We also added a 2x8 connector, which some backlit displays have.
You can now buy the new TWILCD with either bundled with the RGB display or as a board-only from our store.
Newhaven 40x4 displays work well with the TWILCD, as should any other 40x4 display that uses the 2x9 header.
We've updated the assembly instructions to make it easy to chose the right version of TWILCD for your display!
関連製品:

We now offer two separate stands for our popular TWIDisplay 7-segment display. The new stand is slightly smaller and is produced in cool black semi-transparent acrylic.
Smoke Black Acrylic Compact Stand (left side)
A smaller form-factor smoke black acrylic stand with two mounting holes on the bottom.
Clear Acrylic Stand (right side)
A clear acrylic stand with four mounting holes along the edge, suitable both for propping up, as shown in the picture, or for securing to a bigger enclosure.
In order to make it easier to test out various features of the XmegaDuino project, we decided to start development on an Ethernet shield for the Akafuino X. During our research, we found a really cool EEPROM chip: The Microchip 25AA02E48. It only has 256 byte of memory, but it has a EUI-48(TM) certified address burnt in to the memory when delivered from the factory. 1/4th of the memory (the part where the address is written) is write protected.
For people not familiar with EUI-48(TM) addresses, they are used as unique identifiers for ethernet cards, Better known as MAC or Hardware Address.
In the Arduino world it is fairly common to just pick a address and hope that nothing on the local network has the same address. For testing that is OK, but if you have many devices on one network (or want to sell your project), it may become troublesome.
It is possible to purchase an address range from IEEE, but this will cost several thousand dollars. Also, you cannot buy just a few addresses, but will need to buy an entire range. If you instead fit each ethernet device you produce with a 25AA02E48 EEPROM, you have a guarantee unique MAC address available at a nice low cost.
We couldn't find any suitable Arduino libraries, so we decided to make one for ourself. It is available on github.
The library also supports the 25AA020A, which is essentially the same chip, but without a MAC address and the write protection.
Both chips are SPI-based, and the library should be possible to adapt to other EEPROM chips that use SPI as well.
We've added another sheet in our growing family of reference sheets. This time, it is a reference sheet for the ATXMega family of processors.
ATXMega is the big brother to the ATMega series of processors, covered in an earlier reference sheet. Compared to ATMega, you get double the CPU frequency, a built-in DAC and a lot more USARTs and PWM ports. There are also multiple SPI and TWI/I2C ports.
ATXMega processors are surface-mount only, but if you are comfortable with normal through the hole soldering, it isn't really all that hard (lots of good tutorials out there).
Our Reference sheet has the models A4, A3 and A1. As always, your feedback is welcome.
Go here to download.
関連製品:

We sometimes get questions about what kind of LCD displays our TWILCD board supports.
TWILCD is based around an ATTiny 4313 uC and uses a digital potentiometer to set contrast and PWM to control the backlight. This not only frees up resources on your Arduino, but allows you to control it using only two digital pins (SDA and SCL). We have based our TWILiquidCrystal library on the LiquidCrystal library that is bundled with Arduino, so with only a few changes you should be up and running. (You need to include Wire.h and change from LiquidCrystal.h to TWILiquidCrystal.h)
Pin and header support:
Generally all 1x16 (both 1-16 and 15,16,1-14 versions) and 2x7 (+ backlight) are supported. Unfortunately 2x8 is not supported without some manual fixing with wires. (note that some 2x8 displays also have separate connectors for the backlight, marked A and K. A display like that will work.)
Character support:
Any 2-line display with up to 40 characters per line is supported. 4-line displays with 20 characters per line are also supported.
The above picture show the following displays:
1x16 pins with backlight, 16x2 LCD
2x7 pins, 20x2 VFD (with LCD compatible pinout)
2x7 pins + backlight, 20x4 LCD
2x7 pins, 40x2 LCD (no backlight)
The following code was used in this example, the only thing changed between the pictures are row, col and type:
関連製品:

UPDATE: Thanks for the feedback. We've fixed a few issues, made some clarifications and added a diode to the Electronics Reference Sheet. There is also a PDF version available.
Have you ever needed to look up how to connect a n-channel mosfet or a PNP transistor? Do you ever wonder how to hook up a p-channel mosfet to drive a LED?
No need to search the internet any more: With our Electronics Reference Sheet we have gathered all this information in the same place.
We've also added a new page for our Microprocessor Reference Sheet. It currently contains the ATMega164/324/644/1284 microprocessor with Arduino pinouts (from the Sanguino project). We've also added pinouts for the serial connector (found on Arduino boards that do not have a USB to serial connector) and the 10-pin ISP connector (this connector is obsolete, and is only included for reference for people who have boards that use it. If you are designing something from scratch, be sure to use the 6-pin ISP connector. This sheet still has some room, so we're open for suggestions. Our goal is to support a wide range of Atmel microcontrollers that are available in DIP packages.
Thanks to user feedback, we now offer all the reference sheets in three resolutions: A web-friendly 75 dpi version, an A4 (210x297 mm) 300 dpi version as well as an A3 (297x420 mm) 300 dpi version.
Go here to download.
In the previous entry of this blog, we started adding a new Four Letter Word generator mode to the VFD Clock.
That entry described the code necessary to generate a data file with four letter words associations and how to access it from EEPROM. One quite important step was skipped: How to get the data file on to the EEPROM.
Now, the reason we needed an EEPROM in the first place is that the required data file is 57kb, and our ATMega328p only has 32kb in total.
The following method should work with just about any arduino: An SD card EEPROM programmer.
You'll need:
An Arduino (we used a Mega ADK, but a UNO or similar will work just as well)
A way of hooking up an SD card.
A 512kbit/64kbyte I2C EEPROM.
There are many breakout boards for SD cards available, have a look here for details: http://arduino.cc/en/Reference/SDCardNotes.
If you don't have a breakout board, it is also possible to attach wires directly to an SD card, but be careful: SD cards are only rated up to 3.3V, so you will need a level converter to control it with the SPI pins on a normal Arduino.
The code is here.
The code is very simplistic: It uses the SD library which is now bundled with the Arduino IDE, reads the file output.dat (must be stored on the root of the sd card) and writes it to the EEPROM one byte at a time. You can get the output.dat file from the GitHub repository linked above, or you can generate it using the included Processing application (as discussed in the previous blog entry).
To test that everything works, we also added an Arduino implementation of the fourletterword generator (you can use this as a base if you want to make your own four letter word device).
The catch with this method is that it is very slow: It takes a few minutes to program one EEPROM. It can probably be sped up quite a bit by writing several bytes at a time to the EEPROM, but we'll leave that for another time.
Part1: Four Letter Word Generator
Part2: Four Letter Word Generator PART 2 - EEPROM Programmer
関連製品:

The VFD Modular Clock was just reviewed by Brian over at tubeclockdb.com. He made a neat video review that also shows you how to use the menu system:
The full review is here
関連製品:

One of the ideas we originally had when designing the VFD Modular Clock was to add a four letter word generator mode. The IV-17 shield with its four alphanumeric isideal for this.
A four letter word (FLW) generator is, as the name suggests, a device that generates words that are four letters long. There are many ways of creating a FLW generator. The simplest is probably just to create a word list and switch randomly between the words in the list. This is sure to create occasional fun sequences of words, but most of the time it will just be, well, a random collection of unrelated words.
We decided to go with a slightly more interesting approach: An associative word dictionary. We used data files from this project: The Edinburgh Associative Thesaurus. The picture shows one of the first words it spit out during testing (a word that brings back memories of monster slaying in Dungeons and Dragons :)
The data files are stored in a relatively straight forward manner using a plain-text format. There is a list of words, and for each word, a list of associated words. This format is not very suitable for processing on a microcontroller, so first we want to parse all the data and generate a data file that is easy to read from a microcontroller.
The first thing you'll notice if you have a look at the data files, is that the database is a general word association dictionary, and most words are not four letters long. We simply throw these words away.
We wanted a data format that would satisfy two simple constraints:
It must be possible to read a word, get the number of associated words said words has, and then pick one of the associated words.

It must be possible to start at a random point in the data file and figure out where a new word starts easily.
We came up with the following scheme:
<word, 4 bytes>
<number of associations, 1 byte>
<list of 16-bit offsets to the associated words>
<end of word marker, 2 bytes, 0xFFFF>
This is of course not the only way to store the data, and not the most space efficient, but it has the advantage that the code that reads the database becomes very simple.
The Processing sketch for generating the database is here.
The generated database is 57 kbytes, which is much too big to fit into the 32k of the ATMega328P processor (of which we are already using 10kb for the current firmware). To store the data we will use a a 64kbyte (or 512kbit) EEPROM. Most I2C EEPROMs can be used, and are readily available in DIP-8 packages. Using I2C/TWI allows us to hook the EEPROM directly to the "expansion port" on the IV-17 shield.
(PS: TWI connectors are also available on the left header on the base board. They are marked SDA and SCL)
The code: Reading from an I2C EEPROM is quite easy. Here's how to read a single byte from the EEPROM in Arduino:
The firmware for the VFD Modular Clock uses a variant of the Wire library from Arduino, so this code can be transferred with very few changes.
The current code is at the branch fourletterword in the VFD-Modular-Clock repository.
The function get_word in flw.c is the core of the new functionality: It reads a word from the EEPROM, picks one of the associations randomly and returns the offset to this word. The next time get_word is called with the new offset, and the process will repeat.
This is just a proof of concept implementation: We will improve the code a little bit and turn it in to a proper display mode.
Here's a demo video:
Pretty cool, eh? :)
You may have noticed that we've cheated a little. The data file generated by the Processing application needs to be put on to the EEPROM. There are several ways to do this: But we'll get back to that in a follow-up blog post.
Another problem is that the current code uses the same random seed every time, so each time you apply power to the clock, it will show the same sequence of words. We'll need to figure out a way of randomizing the seed value.
WARNING: The database we use is based on linguistic research and is meant to measure how real people associate words. This means that it contains profanity. Also, the database is in British English, so US English users may see some unfamiliar words or spellings.
Part1: Four Letter Word Generator
Part2: Four Letter Word Generator PART 2 - EEPROM Programmer
関連製品:

Get the newest version of the Microcontroller reference sheet here: Microcontroller reference sheet
It adds Arduino pinouts for the ATTiny2313/4313 as well as the ATTiny25/45/85 chips.
Update 2012.02.07: ATTiny24/44/84 added.
Arduino-tiny is a wonderful project that adds cores for a set of ATTiny processors to the Arduino IDE. It is available for download here: http://code.google.com/p/arduino-tiny/
An Arduino core is a set of low-level files that add support for a specific processor inside the Arduino IDE. The core takes care of things such as assigning digital pin numbers to the physical pins on the device, and mapping pins with PWM on them so that they can be used with analogWrite.
To use it, you'll need one of the supported ATTiny chips: We tried with our favorite ATTiny chip, the ATTiny4313. (This chip is used in many of our products, such as the TWIDisplay ).
To make proper use of the Arduino IDE, you will need to know how the physical pins on the supported chips are assigned to Arduino digital pins. The only way to figure this out appears to be by having a look in the source code, which is a bit impractical, so we decided to update our reference sheet with the pin numbers.
The new version of the reference sheet has all the Arduino digital pin assignments printed alongside the AVR port number (which is what you use when you program the chip in low-level avr-gcc. For example, pin 11 on the ATTiny2313/4313 chip has PD6/D8 printed on it. To write to this pin in Arduino, use digitalWrite(8, HIGH).
The ATTiny2313/4313 has four PWM channels, all marked with an asterisk in the reference sheet: Pins D7/D11/D12/D13. The PWM for any of these channels can be activated by using analogWrite.
The Arduino-tiny cores are all set up to use an external programmer to program the chips (attached to the ISP header). There are boot loaders available for some ATTiny chips which would theoretically make it possible to program just using a FTDI serial adapter, but since these chips range from 2k to 8k in size, a bootloader will eat up a significant amount of space.
The ATTinyX61, another one of our favorites does not appear to have a core available yet, so it has not been changed in the reference sheet.
Time for our very first "don't try this at home" post. Well, we can't really stop you if you want to, but please understand that this has no guarantee of working properly, and may in the worst case destroy your microcontroller.
According to Atmel's datasheets, the Xmega series of processors is guaranteed to work at up to 32MHz. Everything above that is unspecified, and done on your own risk.
Atmel Xmega processors have four internal RC oscillators, there's 32MHz, 2Mhz and 32.786kHz (it has two of these).
At startup the 2MHz oscillator is used, but it can be changed in software to one of the others. Several can also be running at the same time, used as the time base for different parts of the processor such as the real time clock and counter.
There are also ports for connecting an external crystal or clock and there's an internal PLL that can be used to multiply any of these clock signals.
The XmegaDuino IDE sets up the processor to use the internal 32 Mhz oscillator. It does that with code that looks like this:
This code sets up the system to run directly off the 32MHz clock, without involving the PLL unit. If you want to go higher than 32MHz, you need to do so via the PLL.
First, let us try and set up the PLL for 32MHz:
The PLL can take its clock reference from one of three sources. The internal 2 Mhz clock, the internal 32 Mhz clock (which is divided by 4 before going into the PLL) or an external clock source.
If you want to do this in XmegaDuino, the code can be put in the setup() part of the sketch.
By now you may have guessed that you can overclock the processor by simply giving it a higher multiplication value. As stated earlier, this is not a supported configuration, so it may not work at all, could make your processor go very warm, or may break it completely.
To test the overclocking, we use tronixstuff's [1] test code from the Akafuino X review, and added the code above in setup().
To use 48MHz, you need the following:
We got the following result with 4 runs:
Duration: 1872ms
Duration: 1872ms
Duration: 1872ms
Duration: 1872ms

For 64 Mhz:
We got the following result with 4 runs:
Duration: 1352ms
Duration: 1352ms
Duration: 1352ms
Duration: 1352ms

Note that the baud rate for the serial port will also increase so if you use Serial.begin(9600) you need to set the serial log window to 14400 or 19200 respectively to get readable output.
The time functions (millis etc) in XmegaDuino all use the internal 32.768 khz oscillator and are thus unaffected by the core clock settings.
We let the Akafuino X run at 64 Mhz continuously for 10 minutes doing continuous calculations. It worked without problems and the processor didn't get noticeably warmer during the test but your milage may vary. An important thing to take note of is that even though we were able to run our test code successfully at 64MHz, there is no guarantee that all parts of the processor are running correctly (we're running outside of spec, remember). Also, the acceptable ambient temperature range of the processor may be affected.
References:
Tronixstuff's xmega speed test code is here [1]
AVR1003: Using the XMEGA™ Clock System
XMEGA A MANUAL
PLL explanation on Wikipedia

関連製品:

Time for this year's first new product post.
Up for offer this time, is our brand new Shift Register Breakout Board: an easy to use breakout board for the popular 74HC595 shift register.
A shift register is a simple way of adding extra outputs to a microcontroller. The breakout board contains two shift registers daisy chained and gives you 16 new outputs using just three control lines.
The Shift Register Breakout Board is made for easy use on a breadboard just plug the board into your breadboard, attach the wires from the top header to your microcontroller and you are good to go. VCC and GND are also broken out allowing you to easily attach them to the breadboard power rails.
Have a look at the Shift Register Breakout Board Product Page for more information.
Also, don't forget our other recent additions: The The TWILCD dot matrix LCD backpack and our beefy new microcontroller board with a mighty XMega microcontroller.